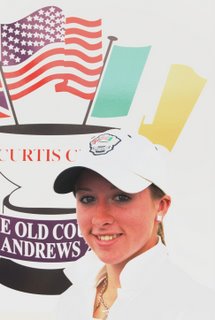 Jodi Ewart tees off US college
season with win at Dick
McGuire Invitational

Curtis Cup player and English stroke-play champion Jodi Ewart (pictured right by Cal Carson Golf Agency, all rights reserved)won her first tournament of the 2008-2009 United States College season today.
It was the Dick McGuire Invitational over her home course at New Mexico University, Albuquerque.
Jodi, 20 years old from Middleham, Yorkshire and a member at Catterick Golf Club, headed a field of 90 players with rounds of 72, 69 and 72 for a six-under-par total of 213 over the par-73, 6,167yd course.
In a nerve-tingling finish, she won by one shot from Natasha Krishna (University of Nevada Las Vegas) who scored 74, 70 and 70.
Third was Jayvie Agojo (Pepperdine) with 71, 74 and 74 for 216.
Junior (third year) student Jodi was trailing Natasha Krishna by one stroke with only three holes to play. She then birdied the 16th while Natasha bogeyed the 17th.
Earlier in the 54-hole tournament, Miss Ewart did well to not let a double-bogey 6 at the 14th upset her rhythm. She finished with a total bag of 14 birdies - four in the first round, six in the second and four again in the last round. She had six single bogeys.
New Mexico scored a double whammy by winning the team event by four shots from Pepperdine with UNLV third in a field of 16 college teams.
Individual

213 Jodi Ewart (New Mexico) 72 69 72.
214 Natasha Krishna (UNLV) 74 70 70.
216 Jayvie Agojo (Pepperdine) 71 71 74.
Teams

872 New Mexico. 876 Pepperdine. 889 UNVL. 894 UC Davis. 898 Colorado State. 899 Colorado (16 teams took part).
Labels: US COLLEGES