Scottish women's county finals start at Inchmarlo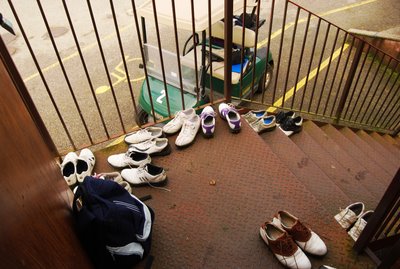 You can come in, but your golf shoes can't! The scene outside the Inchmarlo clubhouse room at lunchtime on Day 1 of the county finals (Cal Carson Golf Agency image).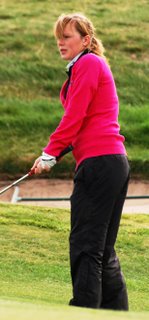 Renfrewshire v Fife looks
like being title decider

By COLIN FARQUHARSON
Tomorrow's Day 2 Renfrewshire v Fife match will go a long way towards deciding which team will be awarded the Scottish women's county team championship trophy at the end of the tournament at Inchmarlo Golf Resort, Banchory on Sunday.
Renfrewshire beat Perth & Kinross 7-2 and Fife overcame Borders by the same score in the opening matches today.
Renfrewshire took a grip on the outcome of their match against P&K by making a 3-0 clean sweep of the foursomes. In the top singles match between two current Scotland internationals, Renfrewshire's Megan Briggs, pictured right by Cal Carson Golf Agency (all rights reserved), beat Emily Ogilvy by 3 and 2.
Megan's younger sister Eilidh, Donna Jackson and Gillian McGinlay also won to give Renfrewshire 4pt from the singles.
Alex Bushby and Annabel Niven were P&K's only singles winners.
Borders did very well to take the lead-off foursomes from Fife, Judith Anderson and Kirsty Inkpen beating Jocelyn Carthew and Scotland cap Louise Kenney 3 and 2.
But Fife's strength in depth enabled them to recover to establish a 2-1 lead from the foursomes to which they added five wins in the singles through Fiona Hastie, Kenney, Carthew, Susan Jackson and Elaine Moffat.
Liz Campbell got Borders' only singles point.
Results
PERTH & KINROSS 2, RENFREWSHIRE 7
Foursomes:
L Walker & E Muirhead lost to E Briggs & M Briggs 1 hole.
J Milne & F Ramsay lost to D Jackson & L Stewart 2 and 1.
E Ogilvy & A Busbhy lost to G McGinlay & G Kyle 7 and 6 (0-3).

Singles:
Ogilvy lost to M Briggs 3 and 2.
Bushby bt Kyle 2 and 1.
Walker lost to Jackson 3 and 2.
Ramsay lost to E Briggs 2 holes.
A Niven bt S McCorkell 1 hole.
Muirhead lost to McGinlay 1 hole (2-4).
Foursomes:
J Carthew & L Kenney lost to J Anderson & K Inkpen 3 and 2.
F Hastie & E Moffat bt A Dods & S Lees 2 and 1.
S Jackson & K Sharp bt L Campbell & I Craigie 2 holes (2-1).
Singles
Hastie bt A Melvin 1 hole.
Kenney bt Inkpen 6 and 4.
Carthew bt G Oliver 3 and 2.
Jackson bt Dods 7 and 5.
L Fury lost to Campell 1 hole.
Moffat bt Craigie 2 and 1 (5-1).

Weekend fixtures:
Saturday
9.30 & 1.30: Borders v Perth & Kinross.
9.52 & 2.15: Renfrewshire v Fife.
Sunday
9.30 & 1.30 Renfrewshire v Borders.
9.52 & 2.15 Perth & Kinross v Fife.
Labels: Amateur Ladies