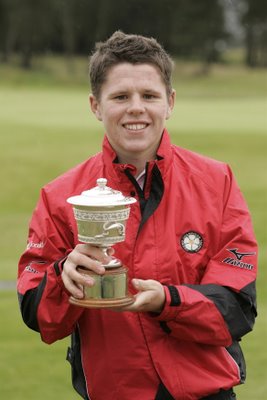 Stiggy Hodgson with The Duke of York Young Champions' Trophy after his runaway win at Dundonald Links, Ayrshire today (Image by Paul Severin).
STIGGY OUTCLASSES DUKE OF YORK
YOUNG CHAMPIONS' FIELD
BY LUKE NORMAN, Tournament Press Officer

No one could live with wire-to-wire champion Stiggy Hodgson as he proved a class apart at the final round of the 2008 Duke of York Young Champions Trophy at Dundonald Links. The 18-year-old Englishman from Sunningdale ended this most prestigious international tournament a staggering 11 shots clear of his nearest challenger, Arnaud Abbas of France.
Nairn Dunbar's Kelsey MacDonald continued to find the going tough after shooting the second lowest score of the tournament on the opening day
.
The reigning Scottish Under-21 girls' champion struggled as the wind got up and the rain increased and she closed with an 82 to tie for 13th place overall at 16-over-par for 54 holes.
"It's been a great week and such fun but I am really disappointed," said MacDonald. "I got a little tense and a little nervous but I'll bounce back!"
Aberdeen's David Law kept battling after a disappointing opening round of 84, as he finished in a creditable 20th position.
Fellow Scot Mark Bookless, who won the Scottish boys' open stroke-play at Blairgowrie a few weeks ago, never quite got going and ended up tied 27th.
However, it was Hodgson who was undoubtedly the star of the tournament as he finished with a 54-hole total of 212, four-under par. The reigning Carris Trophy and McEvoy Trophy winner took the tournament by the scruff of its neck in the opening round with a three-under-par 69 and despite the increasingly difficult conditions, he rarely looked in any difficulty. A measure of the hampion's quality was that he was the only person to keep a double-bogey off his card.over the three rounds.
"I'm absolutely delighted to win a tournament as big as this, this is incredibly special, it's one of the four biggest junior tournaments in the world" smiled Hodgson.
"It may not have looked like it but there was lots of nerves and tension about today but I knew if I didn't loose concentration I would win."
With 51 competitors from 28 countries it was stories like that of Vasin Sripattranusorn that captured the essence of junior golf's biggest international tournament. The Thailand's Boys Champion battled the utterly foreign conditions, climate and language to finish in a tie for fourth. "It was so cool, I met the Duke of York and learnt to play in the wind and rain!" Exactly Vasin.