The Duke of York Young Champions' Trophy Round 2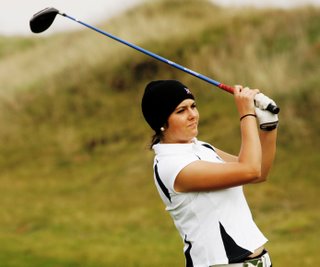 TOO CALM, JOKES KELSEY'
AS SHE SLIPS FROM 70 to 80
AT DUNDONALD LINKS
By LUKE NORMAN, Tournament Press Officer
Scottish Under-21 girls title-holder Kelsey MacDonald from the Nairn Dunbar club endured a difficult day at The Duke of York Young Champions' Trophy tournament as she slipped from second to seventh with second-round 80 at the Dundonald Links.
The benign conditions were in stark contrast to Tuesday's relentless rain and current English boys champion Stiggy Hodgson from Sunningdale took full advantage to move 10 shots clear of Kelsey, his playing partner.
MacDonald,
pictured above in action today
, was at a slight loss to explain her sudden dip in form, which saw her add 10 shots to her first round score. "Perhaps the conditions were just too perfect and it was too calm for me!" laughed Kelsey, now a Stirling University student.
"I had a terrible start with a double-bogey at the first and my putting was horrendous as I reached the turn in seven-over-par."
Hodgson was once again a class apart with three birdies in his one-under-par 71. He sits three shots clear of Ireland's Paul Dunne, who at 15-years-old is one of the youngest competitors in the field. A shot further back and one of the stories of the tournament, is Thailand's Vasin Sripattranusorn who had never seen a links course or been to Europe before this event.
"I find the greens very difficult for my putting especially as they get drier but I am hitting it a long way," laughed Vasin, who has shot 73-72 for current third place on 145.
The attending Duke of York was delighted by the quality of golf on display and in particular by the progress the tournament has made in the last eight years. "A lot of these young people are going to become something big in the game, they are heading for the pinnacle," confirmed Prince Andrew.
"I am so impressed with what we have achieved in the last eight years and it's difficult to improve on it right now. One thing is for sure; this is a not a week I would miss!"
However, once again it was Sunningdale-based Hodgson who stole the show with his immaculate ball-striking and unflappable self-belief. "I got to the turn at two-under today and for some reason all I was thinking was course record – I am just feeling so confident right now," said Hodgson. "My rhythm is good and to be honest I can't wait for the final day."