The Duke of York Young Champions Trophy Tournament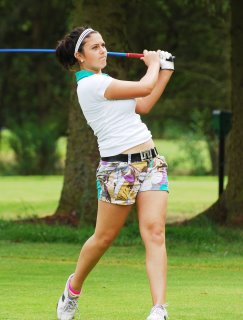 Kelsey is Northern Star in
Dundonald Links gloom

By LUKE NORMAN, Tournament Press Officer
Northern star Kelsey MacDonald lit up the first day's play at The Duke of York Young Champions Trophy with a dazzling two-under-par round of 70 which put her just one off the lead at Dundonald Links.
The reigning Scottish Under-21 stroke-play champion fired an impressive five birdies in a day of incessant rain, as the Home Nation players dominated proceedings
"I play at Nairn Dunbar so I'm not too bothered by the rain to be honest and I have got a great pair of waterproofs!" said Kelsey MacDonald,
pictured above by Cal Carson Golf
Agency (all rights reserved),
who will be 18 in early October and has just started as a student at Stirling University.
"I putted really well and drained some long ones."
Kelsey's birdies demonstrated her length off the tee, coming at the 540yd par-5 third, the 550yd par-5 fifth, the 465yd par 4 10th, the 410yd par-4 13th and the 420ydd par-4 17th.
Fellow Scots David Law (Aberdeen Hazlehead) and Mark Bookless (Sandyhills) had more of a struggle on a desperately difficult day at Dundonald.
Law, the Scottish boys' Junior Tour champion, got to the turn in a highly respectable two over par but a triple bogey 7 at the 10th set the tone for a nightmare back 9. A double bogey at 12 was followed by a triple at 16 for a final score of 84.
Bookless, the Scottish boys' open stroke play champion, also found the going difficult with two lost balls scuppering his challenge en route to an 83
It is the 2008 Carris and McEvoy Trophy winner Stiggy Hodgson who is leading the way. The 18-year-old Englishman, who plays out of Sunningdale, continued his remarkable summer with a stunning three-under-par 69, which would have been a great score in good conditions so to achieve it in non-stop rain represented a something special effort.
Ireland's Paul Dunne lurks a further three shots back with playing partner and English women's champion Hannah Barwood lying sixth.
However, there was no doubt that the first day's honours went to 18-year-old Stiggy Hodgson. "I feel very confident at the moment, I am playing so steadily and having had a lot of links golf this summer I know what to expect," said Hodgson. "It was such a good test in this weather but I hit so many fairways and then rolled a fair few putts in to be in good shape."
Hodgson also had five birdies in his 18 holes, including two glorious 2s at Dundonald's notoriously tricky par-3s. One came at the 120-yard par-3 11th, which was witness to another moment of genius earlier in the day, when Switzerland's Anais Maggetti recorded a hole-in-one. It was the second ace in as many years at the 11th by a female competitor.