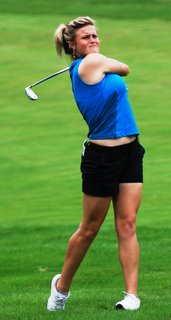 Carly holes last-green putt to
avert a Junior Ryder Cup
12-0 singles blow-out
If coming events cast long shadows, then watch out Nick Faldo!
United States blew away Europe 22-2 at The Club at Olde Stone, Bowling Green, Kentucky - the most lop-sided result yet in the Junior Ryder Cup.
The Americans - with an age limit of 17, one year higher than their opponents - lost only one match and halved two others over the two days of competition.
Had Comrie's Carly Booth,
pictured right by Cal Carson Golf Agency
(all rights reserved),
not holed a downhill 10ft par-saving putt on the 18th green to halve her singles match with Jennifer Johnson, who had won four of the previous six holes, Tuesday's singles matches would have been a perfect 12-0 for the home team, most of whom celebrated their victory by jumping into the lake on Olde Stone's 18th hole.
"
The Americans just overshined us this week," said 16-year-old Carly.

The landslide result called into question the selection process used to make up this year's European side, which is based on the results of just one tournament – the European Young Masters – an event for players 16 and under.
According to European captain Gary Stangl, the European Golf Association altered its selection process before the 2006 matches in response to Europe's dominance in the event over the last decade.
Europe had won by scores of 9 1/2-2 1/2, 8 1/2-3 1/2 and 10 1/2-1 1/2. The 2006 match at Celtic Manor ended in a 6-6 draw. Singles matches were only added this year.
"When they started, the Europeans were older than the Americans, and then the Europeans always won by far, and then they changed it," said Stangl
.
Things have gone full circle. The Americans' age limit of 17 for their players and a new-found desire to field their strongest possible junior team nationwide contrasts sharply with the European authorities' approach.
The Americans' new system, which places more emphasis on the country's strongest junior golf events, produced a team this year that included the top three boys in the the Golfweek/Titleist Junior Rankings and four of the top 10 on the girls' side.
Stangl added:
"Maybe in two years, hopefully we have a stronger team, maybe we have a different qualification system. Then, finally, I hope this can be a real competition between the two continents, good boys, good girls on both sides, and maybe we'll have a close result."