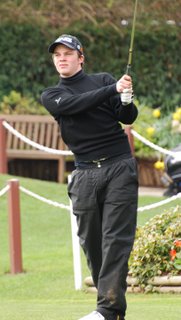 NORTH BERWICK YOUNGSTER
NEIL HENDERSON FINDING HIS
FEET IN US COLLEGE LIFE

North Berwick teenager Neil Henderson has not taken long to settle down to college life in America.
Last year's Scottish schools champion and Scottish junior champion of champions enrolled at Old Dominion University in Norfolk, Virginia last month and his parents, Ian and Linda say he is "really enjoying it" as his golfing schedule has already taken him to two other American states - Maryland and South Carolina.
He made his debut on the American college golf circuit in the Maryland Intercollegiate last week and had rounds of 73 and 75 to finish 42nd out of a field of 95 at the River Marsh Golf Club in Chesapeake Bay.
Rain washed out one of the rounds.
Earlier this week, Neil was back in action at the Raines Development Intercollegiate at the Country Club of South Carolina. He was shaping up well enough with rounds of 75 and 73 in this 54-hole tournament but struggled to an 80 in the last round on greens much faster than he has been used to. That last round dropped him from 40th to a final placing of 68th out of 94 players.
But it's all part of a big learning curve for Neil.
Picture of Neil in action by Cal Carson Golf Agency (all rights reserved).
+If you have a son or a daughter at college in America and we don't mention him or her in our regular updates, please bring this to our attention by E-mailing
Colin@Scottishgolfview.com
Labels: US COLLEGES