Five Scots survive the LET Pre-Qualifier at La Manga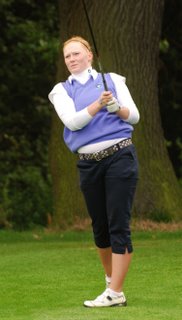 Feggans, Walker, Thomson produce
their best under pressure
Dutch amateur Christel Boeljon led the pre-qualifiers bidding to make it onto the Ladies European Tour at La Manga Club in Spain.
Boeljon, who played on the US college tour as a student at Purdue University, Indiana, fired rounds of 69, 74, 65 and 68 for a four-round total of 276, 12-under-par over the North and S0uth courses. She finished two shots clear of Sweden's Anna Nordqvist and Paraguayan Julieta Granada, with Spain's Elisa Serramia, like Nordqvist a former British women's open amateur champion, in fourth place on five-under-par 283.
A total of 68 players (63 and ties) from a field of 104 progress to the final stage - four rounds over the South Course - which begins on Monday and ends on Thursday. The 68 qualifiers join 27 others who are already exempt.
At the final stage, the top 50 out of 95 players will be given a place on the Ladies European Tour, with the leading 30 given a higher category of membership offering the opportunity to play in most of the 2009 events.

Five Scots - Vikki Laing (291), Pamela Feggans (296) , Kylie Walker (298), Krystle Caithness (299) and Michele Thomson (304) - all made it through. Feggans and Walker (
pictured above by
Cal Carson Golf Agency),
played particularly well on the final day of low temperatures and rain. Pamela had a 68, seven shots better than anything she had achieved in the first three rounds, and Kylie shot a 67, which was also her best by eight shots.
Curtis Cup player and Scottish amateur champion Michele Thomson was possibly under the most pressure of the five Scots qualifiers, being several shots on the "wrong" side of the projected cut-off mark with one round to go.
But she too responded with her best round of the four - a par-matching 71 over the North course.
"Ross Cameron, her caddie, said it was the best he had seen Michele play," said her dad Graham. "She had numerous birdie opportunities from 10ft and less and only holed one, at 17, so hopefully it will come good next week.
"Michele says it was the first round this week she felt like she had total control of the ball."
Auchterarder's Emily Ogilvy (77 for 314) and Karyn Burns (Mearns Castle Golf Academy) (79 for 325) were among the non-qualifiers
MONDAY'S FIRST-ROUND DRAW OVER
SOUTH COURSE (par 73

)
TWO-TEE START

9:00

1 Margherita Rigon (ITA)
1 Jenni Kuosa (FIN)
10 Laure Sibille (Am) (FRA)
10 Elin Emanuelsson (SWE)
10 Lien Willems (BEL)
9:09
1 Anna-Karin Salmen (FIN)
1 Linda Henriksson (FIN) (am)
1 Maria Ringdahl (SWE)
10 Ana Larraneta (SPAIN)
10 Bronwyn Mullins-Lane (AUS)
10 Rachel Bell (ENG)
9:18
1 Emma Weeks (ENG)
1 Jo Pritchard (WAL)
1
Kylie Walker
(SCO) (am)
10 Henrietta Zuel (ENG)
10 Zuzana Kamasova (SLOVAKIA)
10 Claire Aitken (ENG) (am)
9:27
1 Laura Eastwood (ENG)
1
Vikki Laing
(SCO)
1 Kate Combes (AUS)
10 Elena Giraud (FRA)
10 Sahra Hassan (WAL) (am)
10 Marian Riordan (IRE)
9:36

1 Isabella Maconi (ITA)
1 Holly Aitchison (ENG) (am)
1 Anne Norman Hansen (DEN)
10 Julie Berton (FRA)
10 Christel Boeljon (NET) (am)
10
Lynn Kenny
(SCO)
9:45
1 Frederique Seeholzer (SWI)
1 Antonella Cvitan (SWE)
1 Stephanie Evans (WAL) (am)
10 Frederique Dorbes (FRA)
10
Jenna Wilson
(SCO)
10
Michele Thomson
(SCO) (am)
9:54
1 Karin Borjeskog (SWE)
1
Krystle Caithness
(SCO) (am)
1 Natascha Fink (AUSTRIA)
10 Morgana Robbertze (SA)
10 Monica Christiansen (DEN) (am)
10 Sarah Heath (ENG)
10:03

1 Sanna Johansson (SWE)
1 Rhian Wyn Thomas (WAL) (am)
1 Patricia Beliard (FRA)
10 Melanie Holmes-Smith (AUS)
10 Anna Rossi (ITA)
10 Elizabeth Bennett (ENG) (am)
10:12

1 Hazel Kavanagh (IRE)
1 Florence Luscher (SWI)
1 Ayaka Hayashi (JAP) (am)
10 Eleanor Pilgrim (WAL)
10 Florentyna Parker (ENG) (am)
10 Viva Schlasberg (SWE)
10:21
1 Julieta Granada (PARAGUAY)
1 Tilly Holder (UK)
1 Celine Herbin (FRA) (am)
10 Josefin Leijon (SWE)
10 Lara Tadiotto (BEL)
10 Camille Fallay (FRA)
10:30
1 Tara Delaney (IRE) (am)
1 Linnea Torsson (SWE)
1 Jutta Degerman (FIN)
10 Jo Clingan (ENG)
10 Barbara Genuini (FRA) (am)
10 Caroline Grady (ENG)
10:39

1 Nicola Eaton (SAf)
1 Hanna-Leena Salonen (FIN)
1 Mette Buus (DEN)
10 Eva Bjarvall (SWE)
10 Beth Allen (USA)
10 Anna Nordqvist (SWE)
10:48
1 Breanne Loucks (WAL) (am)
1 Sohvi Harkonen (FIN)
1 Smriti Mehra (INDIA)
10 Kym Larratt (ENG) (am)
10
Pamela Feggans
(SCO)
10 Vittoria Valvassori (ITA)
10:57
1 Tandi Cuningham (SAf)
1 Wendy Berger (AUS)
1 Matia Maffiuletti (ITA) (am)
10 Anna Highgate (WAL)
10 Frances Bondad (AUS)
10 Caroline Rominger (SWI) (am)
11:06
1 Marousa Polias (AUS)
1 Kyra van Leeuwen (NET) (am)
1 Danielle Masters (ENG)
10 Bing Lim (MALAYSIA)
10 Malene Jorgensen (Am) (DEN)
10 Lena Tornevall (SWE)
11:15

1 Claire Coughlan-Ryan (IRE)
1 Elisa Serramia (SPAIN)
1 Miriam Nagl (GER)
10 Jessica Ji (SOUTH KOREA
10 Kaisa Ruuttila (FIN)
10 Stephanie Na (AUS) (am)
SCROLL DOWN FOR ALL THE FINAL TOTALS FROM THE PRE-QUALIFIER


Labels: LADIES EUROPEAN TOUR