Lynn Kenny has nightmare 83 after long trip from Scotland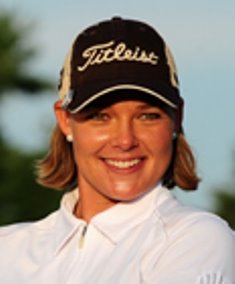 Katherine Hull has only 24
putts in leading
NZ Open
with a seven-under 65
Australian Katherine Hull, an LPGA Tour player, required only 24 putts in taking the first-round lead with a seven-under-par 65 in the inaugural New Zealand Women's Open at Christchurch today.
But Lynn Kenny made the long trip all the way from Scotland ... and had a disastrous score of 83.
Ranked No 26 in the world and a winner on the LPGA circuit last year, Katherine Hull,
pictured,
leads by three shots from compatriot Sarah Oh.
The same pair fought out the finish to the New South Wales Open last Sunday with Oh prevailing by three shots.
Equal third on three-under 69 were the leading amateur, 14-year-old Aucklander Cecilia Cho, experienced Australian professional Karen Lunn, and young Korean professional Yeon Song Kim. Only 13 professionals and two amateurs in a field of 106 bettered the par of 72, with the early starters experiencing excellent conditions while those further down the field had to contend with a swirling wind.
France's Gwladys Nocera, the leading player on the Ladies European Tour, had a 71, the same score as compatriot Anne-Lise Caudal, Germany's Martina Eberl and Sweden's Johhanna Westerberg.
Hull was always in touch with the leaders on the easier front nine after three birdies in the first six holes, but she had her only bogey of the round when she put her approach shot to the par-4 eighth green in water.
There were no such mistakes on the back nine where most of the water comes into play, and with Hull holding the greens to ransom she had five birdies, including four consecutively from the 14th, in a back nine of 31.
"I thought the back nine was more difficult going into today's round, but obviously a hot putter helps the score," said the 27-year-old Queenslander, who was buoyed by a long-range birdie putt on the first hole.
"I holed one from the front fringe from 45 feet and then on the par-3 16th made one from close to 55 feet so that was two bombs," Hull said, adding that conditions were perfect and the greens very true.
Hull said she had corrected a few putting flaws from last week's tournament in her preparation this week and a 67 in Thursday's pro-am boosted her confidence.
"I saw the putting lines better than usual and it was just a matter of matching that with the right speed. I wouldn't say it was easy because you still have to pay attention and put the right speed on and that's what happened today."
Hull said her concentration waned when playing her approach to the eighth.
"I did get sloppy and went blank over the ball and hit it in the water. I got what I deserved. I said `you are an idiot seriously' but didn't get mad with myself."
Hull set herself the challenge of getting up-and-down for bogey and did that.
She was consistent from tee to green, hitting 10 fairways and 14 greens in regulation -- "but honestly it was down to the putting as I wasn't hitting it super close".
Oh, with birdies at the fourth, fifth, sixth, 14th and 16th holes, was two behind Hull playing the last where she had her only bogey after almost driving into the water.
FIRST ROUND SCOREBOARD
Par 72Players from Australia unless

stated
65
Katherine Hull.
68
Sarah Oh.
69
Cecilia Cho (NZ) (am), Karen Lunn, Yeon Song Kim (SKo).
70
Lee-Anne Pace (SAf), Mollie Fankhauser (US), Nancy Harvey (Can), Stacey Keating (am).
71
Martina Eberl (Ger), Anne-Lise Caudal (Fra), Gwladys Nocera (Fra), Johanna Westerberg (Swe), Sarah Nicholson (NZ), Wendy Doolan.
72
Sunny Park, Jade Schaeffer (Fra), Becky Morgan (Wal), Lotta Wahlin (Swe), Min Gyung Suk (SKo), Nikki Garrett, Vicky Thomas, Melodie Bourdy (Fra), Rica Tse (NZ) (am.
73
Becky Brewerton (Wal), Sarah-Jane Smith, Bobea Park (SKo), Carolina Bon (NZ) (am), Julie Tvede (Den), Lydia Hall (Wal), Sarah Kemp, Stephanie Na, Zoe Brake (NZ) (am), Melanie Holmes-Smith.
Selected scores:
74
Kiran Matharu (Eng) (jt 34th).
75
Danielle Montgomery (Eng) (jt 43rd).
77
Laura Davies (Eng), Felicity Johnson (Eng).
79
Liz McKinnon (NZ) 79.
83
Lynn Kenny
(Sco) (103rd).
Labels: Pro Ladies