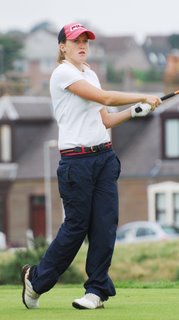 Kylie joint seventh after an
opening 76 in Portugal
Scotland's only entry, Kylie Walker from Buchanan Castle ended the first day of the Portuguese women's open amateur golf championship in a respectable joint seventh place in a field of 70 players at Quinta do Peru Golf Club near Lisbon.
Kylie, who finished seventh in the event last year, had a round of four-over-par 76 - five shots behind leader Lara Katzy (Germany).
The long-hitting Scot had no birdies but strayed over par only three times with bogeys at the long ninth and short 16th and a double bogey 6 at the 18th.
Rhian Wyn Thomas from Vale of Glamorgan is the best placed of the Welsh contingent in a share of 16th place on 77. Rhian, whose last tournament was the Ladies European Tour School at La Manga, Spain had steady halves of 39 and 38 but not enough birdies.
Student Niamh Kitching from Limerick top-scored for the Irish with an 80 to be in joint 30th place overnight.
There is only one English entry, Rachel Drummond, who is lying in joint 39th place with an 82 but Spain-based Mandy Goyos, whose mother is English and her father Spanish, had a 77.
Mandy is pictured above by Cal Carson Golf Agency at last year's British girls' open championship at Monifieth.

Collated scoreboard
First round

Par 72
71
Lara Katzy (Ger) 35-36.
72
Lucie Andre (Fra) 37-35.
74
Marion Bernard (Fra) 36-38, Rosanna Crepiat (Fra) 38-36, Ines Diaz-Negrete (Spa) 38-36.
75
Nicola Roessler (Ger) 36-39.
76
Kylie Walker
(Sco) 37-39, Anna Kellerman (Ger) 39-37, Ana Santos Melo (Por) 39-37, Lourdes Lopez Caballo (Spa) 38-38, Anna Arrese (Spa) 38-38, Marion Ricordeau (Fra) 40-36, Cristina Mate (Spa) 37-39, Joana Yanez (Spa) 38-38, Ariane Provot (Fra) 41-35.
77
Rhian Wyn Thomas (Wal) 39-38, Irene Calvo Sanz (Spa) 41-37, Laura Stempfl (Ger) 41-36, Antonia Scherer (Ger) 40-37, Mandy Goyos (Spa) 38-39 (jt 16th).
78 Rocio Sanchez (Spa) 42-36, Marion Duvernay (Fra) 42-36, Adriana Zwanck (Spa) 41-37, Sara Vanzonhoven (Bel) 40-38, Nina Holleder (Ger) 40-38, Jana Niebralla (Ger) 39-39, Ana Fernandez Mesa (Spa) 38-40.
Selected scores:
80 Tara Davies (Wal) 37-43, Katherine O'Connor (Wal) 40-40, Niamh Kitching (Ire) 42-38 (jt 30th).
82 Rachel Drummond (Eng) 38-44 (jt 39th).
83 Hannah Jenkins (Wal) 43-40 (jt 45th).
84 Anna McCormack (Ire) 42-42 (jt 51st).
85 Victoria Bradshaw (Ire) 43-42 (jt 54th).
87 Amy Boulden (Wal) 44-43 (jt 62nd).
90 Sarah Crowe (Ire) 47-43 (65th).
97 Aoife Lowry (Ire) 49-48 (70th).
Labels: Amateur Ladies