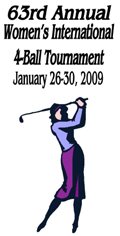 Final event of Orange Blossom
Tour gets underway

The final event of the 2009 Orange Blossom Tour for amateur women/girls in Florida teed off today.
It's the 63rd women's international four-ball championship at Orangebook Golf & Country Club at Hollywood (not in California!), down the Atlantic coastline from Fort Lauderdale.
All the Scottish/English/Irish students and other English players such as Holly Clyburn and Rachel Connor have come back to this side of the Atlantic so there's a very small field.
But if it's short of quantity it is not short on quality.
US Curtis Cup player Meghan Bolger, twice US women's mid-amateur champion, who lost to Kelsey MacDonald in the semi-final of the "Jones-Doherty" last week, is in the field. She plays off +1 and her partner, Dawn Woodward, plays off an amazing +4. Why was she not in the US Curtis Cup team at St Andrews last May?
Apart from them there are three or four scratch players.
SCORES FROM THE FIRST QUALIFYING ROUND
69
Diane Lang (Westin) & Maggie Weder (Ironwood).
70
Meghan Bolger (Coral Ridge) & Dawn Woodward (Thornblade).
71
Mary Hanyak (PGA Golf Club) & Marianne Springer (Palm Beach Polo).
72
Corey Weworski (Sant Lux) & Jamie Hoffman (Sun Luis Rey Downs).
73
Danna King (Coto de Casa) & Madelaine Campbell (Mesa Verde).
74
Alison Reifers (Muirfield Village) & Nancy Sneed (Lakes), Boodie McGurn (CC of Virginia) & Lindsay Wortham (CC of Virginia).
79
Judy Coker (Pekin Link Creek) & Evelyn Blackman (Pekin Link Creek).
84
Jewell Frei (Orangebrook) & Ronnie Hall (Hillcrest).
Labels: Amateur Ladies