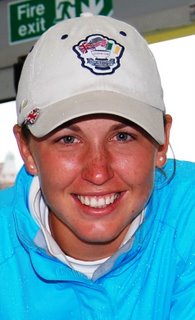 Sally Watson comes from behind
to win tight Florida finish
Curtis Cup teenager Sally Watson, playing out of Earlsferry Ladies Golf Club, Fife, won the The Leadbetter Challenge's girls' tournament at IMG Academies Golf & Country Club's course, Sarasota Bay, Bradenton, Florida today (Sunday).
Sally, a 17-year-old resident student at the David Leadbetter Golf Academy, Bradenton, shot rounds of 72 and 71 for a one-under-par total of 143.
The Scot, who will enrol at Stanford University - Tiger Woods and Mhairi McKay's old stamping ground in California - in the autumn, has had very little competitive action since a major knee operation a few days after she played well for Great Britain & Ireland in the Curtis Cup defeat by the United States at St Andrews last May.
It was several months before she could even play golf again and this win will give her self-confidence a terrific boost.
Sally won in the end by one shot from the talented Israeli player, Laetitia Beck, who is also a student at a golf academy in Florida, and Irene Jung (Nova Scotia, Canada), but it was mighty close over the final round.

The first-round pace had been set by Irene Jung and Susana Benavides (Bolivia) on the two-under-par 70 mark but Irene slipped to a second-round 74 and Susana to a 76.
Laetitia Beck took up the running with a five-under-par run over the first 11 holes of the second round, birdieing the first, second, sixth, 10th and 11th.
Out in 33 to Watson and Jung's 37 apiece, Beck dropped a shot at the 12th but birdied the 13th to have a clear lead until she bogeyed the 15th and double-bogeyed the 16th.
Beck birdied the last for a 69 and 144 but it was too late to catch Watson who had birdied the third, seventh, 10th and 13th and bogeyed the second, fifth and ninth in halves. The Scot's two-under-par inward half of 34 was decisive in the final analysis.
LEADING FINAL TOTALS

Par 144 (2 x 72)
143
Sally Watson (Earlsferry) 72 71.
144
Laetitia Beck (Israel) 75 69, Irene Jung (Canada) 70 74.
146
Deborah Marie de Villa (Philippines) 74 72, Susana Benavides (Bolivia) 70 76.
151
Shannon Pak (Louisiana) 76 75.
152
Alexa Rancourt (Maine) 78 75, Maribel Lopez Porras (Colombia) 76 76, Hally Leadbetter (Florida) 80 76.
Labels: Girls