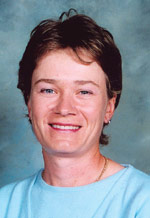 Catriona Matthew (five months
pregnant)
leads by two in Brazil
Mum-to-be for a second time, North Berwick's Catriona Matthew is the halfway leader by two strokes at the inaugural HSBC LPGA Brazil Cup.
The Scot shot a three-under-par 69 today over the 6,393yd, par-72 Itanhanga Golf Club course at Rio de Janeiro in what is the first event on the LPGA 2009 calendar.
The unofficial money event features a 15-player field and a $500,000 purse.
First-round conditions improved steadily throughout the day, starting off with rain, then turning to mist and finally sunny skies. Matthew started hot today with birdies on four of her first six holes Ė including tap-ins at holes three and five Ė before back-to-back bogeys at seven and eight dropped her to two-under-par through nine holes.
The Scot, who is five months pregnant with her second child, birdied the 10th hole with a four-foot putt to end the day at three-under-par. The 39-year-old has two official LPGA Tour victories in her career, the last coming at the 2004 Wendyís Championship for Children.
South Carolina native Kristy McPherson, 27, recorded birdies on 17 and 18 to finish with a 71, two shots behind the leader.
Matthew, McPherson and Brazilís Angela Park will be paired together in Sundayís final round.
LEADING SCORES
Par 72
69 C Matthew
71 K McPherson.
72 A Park.
74 A Fouch, I Hanneman.
75 C Koch, C Kim, E Heeji, L Diaz.
76 J Kang.
78 K Stupples, L Friberg.
CATRIONA MATTHEW'S SCORECARD
34-35 = 69 (-3)
Hole 1, 279-yard, par-4: birdie Ė sand wedge to 10 feet.
Hole 3, 475-yard, par-5: birdie Ė sand wedge to 1 foot.
Hole 5, 461-yard, par-5: birdie Ė sand wedge to 1 foot.
Hole 6, 168-yard, par-3: birdie Ė 5-iron to 10 feet.
Hole 7, 411-yard, par-4: bogey Ė bad drive, punch out.
Hole 8, 402-yard, par-4: bogey Ė bad drive.
Hole 10, 168-yard, par-3: birdie Ė 5-rescue to 4 feet
CATRIONA MATTHEW INTERVIEW
CATRIONA
: I birdied four of the first six holes and that got my round going. Had a couple of bogeys on seven and eight, but came back with the birdie on 10. Had a few chances coming in, but didnít hole the putts.
Q.
Catriona, you are five months pregnant. How are you feeling?
CATRIONA

:
Iím feeling fine actually. I get a little tired towards the end, but itís not really affecting me just yet.
Q.
You might not play too many tournaments this year. Do you feel like you would like to win here before you take a break?
CATRIONA
: Yeah, that would be great. I think Iím only going to play one more maybe. To have a win would be fantastic. Iíll play maybe just a few tournaments, maybe Singapore if Iím feeling good.
Q.
Can you talk about using a local caddie and how he has been?
CATRIONA:
Heís been really good. He did a great job keeping my clubs dry. A good player himself, he plays to scratch. Heís doing well.
Q
. Tell us about tomorrow. What is your plan?
CATRIONA
: Go out and play just as well as I did today. Iím in a good position with this being 36 holes, so just go make a few birdies. If itís another day like this, just try to shoot under par.
Labels: LPGA TOUR