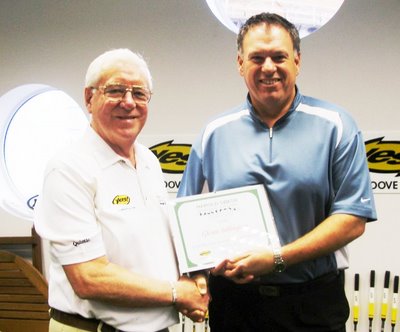 Putting guru Harold Swash (left) with Glenn Billington and his Certificate of Excellence.
Billington
joins Academy staff
By COLIN FARQUHARSON
Competitors at next month's Hacienda del Alamo Women's Winter Festival have a golden opportunity to come home much better putters than they were when left the country!
The reason is that putting expert
Glenn Billington
has joined the five-star Murcia golf resort's teaching staff at the range and practice facilities which are second to none in Spain.
Who is Glenn Billington? Well he comes from the same area in Birmingham as
Harold Swash,
which is a good start as it means they talk the same language in more ways than one
.
Who's Harold Swash? He's arguably the best known "Putting Doctor" in European/world golf.
Harold has given
Padraig Harrington
putting tips and many more European Tour players as well.
And Glenn Billington gained "Accredited Instructor" qualifications by attending the Harold Swash Putting School.
Glenn is also a member of the Professional Golfers Association and a Master Teaching Professional with the World Golf Teachers' Federation.
Pretty impressive, eh?
So, during the Hacienda del Alamo Women's Golf Festival, Glenn, who recently moved his Spanish base from La Manga to Hacienda del Alamo Golf Resort, will be available at the practice range to help anyone who wants to become a better putter ... and who doesn't?
Here are some quotes from Glenn:
"I have enjoyed every minute since I moved to Spain. Now I have a state of the art putting studio within the Academy at the fantastic Golf Resort of Hacienda Del Alamo. Everything about the resort is sheer class and hopefully I will add that little extra,
"I offer excellent putting coaching with long term effects in my studio. I also have access to the two putting greens and can extend that to playing lessons on the magnificent par 72 Championship Golf Course. There is nowhere better to learn than on the course, but get the basics right first.
"All lessons are videoed with expert analysis which for the player who seeks absolute perfection there is nothing better.
"With a little more knowledge we can change people's golfing lives for the good, giving them direction from within which is long term. With the correct type of coaching people can switch from an individual who lacks confidence to someone who believes in themselves.
"I have the technique and ability to help long term through technical and mind management.
"I have to say a big thank you to Harold and Phil Kenyon. The experience so far has been beyond belief. To work with them both at professional events and to know that you are working with and learning from the best in the business is a dream come true.
"I will always be professional and guarantee to improve everyone who trusts my coaching. My attitude is positive and friendly and the atmosphere within my studio is electrifying.
"Having played golf to a good standard I decided that coaching was a way of working with people and getting the best out of them in golf. It is fantastic to see how all students improve when they are led the 'Harold Swash' way.
"So many of my students have already succeeded by improving their putting – it is so satisfying to hear their positive approach to putting and how their game continues to improve. Combining these techniques and the Yes! C Groove putters – all will succeed.
"All standards of player - from amateur to professional - will improve. I look forward to meeting you, soon at the Hacienda del Alamo Women's Winter Festival.
Labels: 2009 HDA FESTIVAL