Jones/Doherty match-play: This week's Orange Blossom Tour event in Florida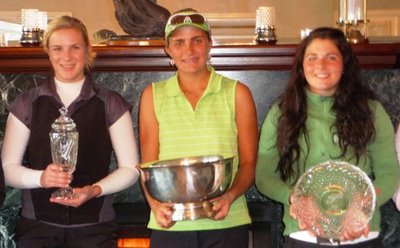 Leading prizewinners' image from the South Atlantic Ladies Amateur championship: Kira Meixner (Canada), winner Alexis Thompson (USA) and Kelsey MacDonald (Stirling University & Nairn Dunbar GC). Image by courtesy of Oceanside Country Club, Florida.
Kelsey MacDonald, Laura Murray among
leading qualifiers at Fort Lauderdale
By COLIN FARQUHARSON
I've been trying to catch up with the first couple of days' play in this week's event on the Orange Blossom Tour in Florida - the Jones/Doherty match-play tournament at Coral Ridge Country Club, Fort Lauderdale.
Here's a round-up of the story so far:
QUALIFYING ROUND LEADERS
Players from US unless stated
73
Meghan Bolger.
74
Alexis Thompson,
Kelsey MacDonald
(Nairn Dunbar).
76
Sandra Changkija, Carly Ray Goldstein.
77
Wendi Golden.
78
Laura Murray
(Alford).
79
Victoria Trapani, Susan West, Marilyn Hardy.
80
Rachel Connor (Manchester).
Other scores:
82
Rachel Cassidy (Dublin), Daniela Lendl.
83
Marika Lendl, Diane Lang.
85
Harriet Beasley (Woburn).
88
Rebecca Wilson (Monifieth).
89
Holly Calvert (Lancaster).
Match-play results
CHAMPIONSHIP FLIGHT
Laura Murray
bt Kayla Williams 4 and 3.
Rachel Cassidy bt Mary Jane Hiestand 2 and 1.
Sandra Changkija bt Harriet Beasley.
Rachel Connor bt Laura Carson 5 and 3.
Kelsey MacDonald
bt Julie Carmichael 5 and 4.
SECOND FLIGHT
Holly Calvert bt Amy Lewin 6 and 4.
Bye:
Rebecca Wilson
.
Labels: Amateur Ladies