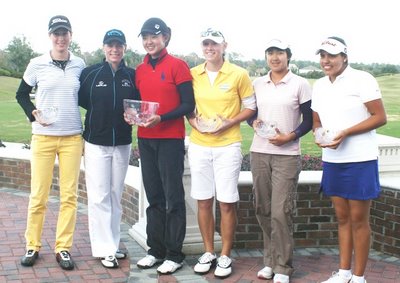 Annika Sorenstam (second left) with the top five finishers in her international girls' tournament in Florida.
Sally Watson finishes joint 14th in Annika
Sorentstam Invitational in Florida
FROM THE TOURNAMENT WEBSITE
REUNION, Fla. — Simin Feng, 13, of Orlando, Fla., dueled hefty wind conditions and stiff competition at Ginn Reunion Resort's Tom Watson Course to claim the inaugural ANNIKA Invitational.
Sarah Brown of Phillipsburg, New Jersey and Luz Alejandra Cangrejo of Bogota, Colombia, ended the day one stroke behind and tied for second.
Conducted by the American Junior Golf Association, the ANNIKA Invitational was a 54-hole stroke play event played at Ginn Reunion Resort, home of the ANNIKA Academy. The girls-only field played the par-72 Independence (Watson) Course at 6,450 yards.
The 60-player field featured 17 Rolex Junior All-Americans and players from 17 states and 15 foreign countries.
Trailing by one shot heading into final-round play, Feng flip-flopped the lead with first-round leader Cindy Feng of Orlando, Fla. Shooting a final round of 1-over-par 73, Simin carded two birdies en route to victory. After Cindy Feng double-bogeyed No. 5, Simin said her confidence grew.
"Playing so close, I was nervous all day. After Cindy made that double on No. 5, I was less nervous," Simin said. "I took the lead and knew things would be fine if I just played my game."
After 13 holes, four players were tied atop the leaderboard. Laetitia Beck of Caesarea, Isreal, and Cangrejo found themselves in contention with front-side finishes of 1-over-par 36 and 1-under-par 35, respectively. Bogeys by Beck and Cindy at No. 15 put Simin and Cangrejo in a head-to-head match through the next three holes.
Cangrejo, who was playing in the group ahead of Simin, made bogey at the par-5 17th, which put Simin one up heading to No. 18.
"Heading into No. 18, I just wanted to hit my drive straight," Simin said. " I thought I would get into a playoff with just a par."
Cangrejo bogeyed the final hole, which gave Simin a two-shot cushion as she stood on the No. 18 tee. Unaware of Cangrejo's bogey, Simin walked off the 18th green disappointed after three-putting for bogey. It wasn't until Annika informed Simin on her walk to the scoring tent that she realized she won.
"It means a lot to win this tournament," Simin said. "Annika is going to hand me the trophy and she has accomplished so much, it's such an honor."
Tied for second were Brown and Cangrejo with three-day totals of 5-over-par 221. Tied for fourth, with three-day totals of 6-over-par 222, were Cindy Feng and Beck.
Scotland's Sally Watson, the first round leader by two shots with a 70, finished joint 14th with a total of 228. After a second-round 84, the 17-year-old student at the David Leadbetter Golf Academy, Bradenton, Florida was more like her old self with a closing round of two-over-par 74.
She had birdies at the first, 14th and 17th in halves of 38 (two over) and 36 (level).
Former Irish girls champion Stephanie Meadow, who is a student at the International Junior Golf Academy at Hilton Head Island, South Carolina, finished joint 37th in the top quality field of 60 with scores of 81, 76 and 80.
The ANNIKA Foundation provides inspiration to children in need through critical financial, physical, and emotional support, and also helps aspiring junior golfers follow their dreams through scholarships, education, and new playing opportunities.
LEADING TOTALS
Par 216 (3x72). 6459yd.
220 Simin Feng 72 75 73.
221 Sarah Brown 77 72 72, Luz Alejandra Cangrejo (Colombie) 74 75 72.
222 Cindy Feng 72 74 76, Laetitia Beck (Israel) 75 73 74.
224 Victoria Tanco 78 75 71, Jessica Korda 78 73 73, Danielle Kang 76 75 73, Rachel Rohanna 72 78 74, Alexandra Stewart 80 70 74.
226 Kristina Wong 74 79 73, Grace Na 79 73 74, Maria Piccio 75 787 74.
228

Sally Watson
(Scotland) 70 84 74, Ginger Howard 76 77 75, Kyndall Ardoin 77 74 77, Mariah Stackhouse 74 76 78, Annie Park 74 76 78.
Selected score:
237
Stephanie Meadow
(Ireland) 81 76 80 (jt 37th).
Labels: Girls