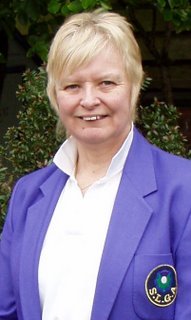 Shona Malcolm confirmed as SLGA
Chairman for three-year term
PRESS RELEASE ISSUED BY SLGA
At the Annual General Meeting at Dewars in Perth on Saturday, January 17, attended by 150 people, Shona Malcolm (Ayrshire) was confirmed as Chairman of the SLGA for a three-year term of office.
The appointment of a Chairman for three years marks an important stage in the SLGA's development which has, in recent years, seen the Association take on responsibility for handicapping, course rating and the running in Scotland of the former LGU medals, as well as the implementation of a change in business model from being an unincorporated association to a company limited by guarantee.
The new Chairman, pictured above, says: "I look forward to working with the SLGA at these exciting and challenging times for ladies' golf, and to meeting and consulting with many of the SLGA's members in the coming months and years."
The AGM also honoured Mrs Nancy Chisholm, a past President of the SLGA and past Chairman of the Ladies' Golf Union, who was elected as a Vice Presidentof the Association in recognition of her long standing contribution to ladies golf.
Mrs Fiona Cowan (Dunbartonshire & Argyll) took over as the West's representative on the Board and will serve as Chairman of the new Championship Committee.
Members of the Association, by an overwhelming majority, approved an increase in the per capita subscription from £13 to £14, to take effect from January 2010.
The Chairman updated the meeting on current progress with "One Plan for Golfin Scotland." In particular, she described how the SLGA and SGU, in partnership with the PGA and sportscotland, are working together for the benefit of the sport, and she highlighted a number of aspects of future plans.
After the meeting the SLGA Board met and appointed Mrs Janet Wake as Executive Director and Chairman of the Management Committee. Other appointments confirmed at that meeting are:
Chairman of the Performance Committee - Mrs Beth Paterson.
Chairman of the Selection Panel - Miss Liz Miskimmin.
Chairman of the Training Panel - Mrs Winifred MacCallum.
Chairman of the Development Panel - Mrs Sheila Pickles.
*The SLGA, founded in 1904 and incorporated in 2006, is the governing body for ladies' and girls' amateur golf in Scotland.

Dr Sheila E Hartley
Company Secretary
Scottish Ladies Golfing Association Limited
The Den
2 Dundee Road
Perth PH2 7DW
Tel: + 44 (0)1738 442357
Fax: +44 (0)1738 442380
Registered in Scotland No. 308709
Web: www.slga.co.uk
Labels: Amateur Ladies