South Atlantic Ladies Amateur championship in Florida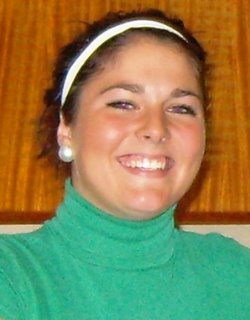 Kelsey finishes third behind
Alexis
Thompson, winner
of "The Sally" by 13 shots
Scottish Under-21 champion and Stirling University student Kelsey MacDonald (Nairn Dunbar) finished third behind the runaway title-winner, 14-year-old Alexis Thompson from Coral Springs, Florida, in "The Sally," the South Atlantic Ladies amateur championship at Oceanside Country Club, Ormond Beach in Florida today.
Last year Liz Bennett (Brokenhurst Manor), who would go on to gain Curtis Cup honours, won this prestigious event which is the second on the Orange Blossom women's amateur tour in Florida.
Thompson, winner of the United States girls champion last year when she was only 13, finished runner-up in the Junior Orange Bowl girls' championship and the Dixie Women's Amateur tournament - both in Florida - over the Festive period ... but there was no way she was going to settle for second place in "The Sally."
The youngster, who might just make the US Curtis Cup team in 2010 but will certainly be in the 2012 side when the match is at Nairn, shot rounds of 68, 70, 73 and 72 for a five-under-par total of 283 in conditions which were sometimes most unlike a normal January week in Florida.
Her winning margin of 13 shots is believed to be a record for the tournament.
Kelsey MacDonald, joint second with Kira Meixner (British Columbia) at the start of the final day, was edged out of the runner-up spot by the Canadian who birdied the third, fourth and fifth on her way to a 73 for 296 to the Scot's 74 for 297.
It was still a fine effort by the Stirling student
(pictured above)
whose third-round 69 was the best score by anyone over the last three rounds.

She had earlier scored a pair of 77s, leaving herself too much ground to make up over the second half of the tournament.
Today Kelsey birdied the third, eighth, 12th and 17th but dropped shots at the first, fifth, ninth, 10th, 15th and 18th.
Robert Gordon University student Laura Murray from Alford had her worst round of the four at the last time of asking - an 85 for 317, which dropped her from sixth place to a final position of 11th.

Laura had three triple bogeys and a double bogey on her card today.
Rachel Connor (Manchester), daughter of a Scots-born club professional, finished joint 12th on 319 with a final round of 80. Rachel had no birdies on her card to offset a double bogey 7 at the long sixth.
Craigielaw member Jane Turner (Robert Gordon University) made the top 20 - 17th place, in fact - saving her best round until the last, a one-over-par 73 which was bettered only by champion Alexis Thompson today.
Jane birdied the fourth, fifth, sixth and 17th but she had a double bogey 7 at the long 12th and dropped shots also at the 10th, 11th and 15th.
Jane finished on 322 - three shots ahead of Stirling student Rachel Cassidy from Dublin. Rachel closed with an 83 for 325 and joint 20th place.
Three other Stirling students - Harried Beasley from Woburn, Holly Calvert from Lancaster and Rebecca Wilson from Monifieth - finished on 338 (33rd), 342 (37th) and 368 (54th) respectively.
FINAL TOTALS
Par 288 (4 x 72)
Players from US unless stated

283
Alexis Thompson 68 70 73 72.
296
Kira Meixner (Can) 73 73 77 73.
297
Kelsey MacDonald (Nairn Dunbar) 77 77 69 74.
302
Wendi Golden 73 75 79 75.
306
Jessica Yadloczky 76 76 76 78.
310
Martha Leach 77 83 76 74, Meghan Bolger 76 82 75 77.
311
Megan Chapman 74 78 83 76.
313
Carol Semple Thompson 74 73 89 77.
316
Rachel Carpenter 68 84 80 84.
317
Laura Murray (Alford) 74 78 80 85.
319
Rachel Connor (Manchester) 75 77 87 80, Laura Medders 79 76 84 80.
Selected scores:

322
Jane Turner (Craigielaw) 78 87 84 73.
325
Rachel Cassidy (Dublin) 81 76 85 83.
338
Harriet Beasley (Woburn) 81 82 88 87.
342
Holly Calvert (Lancaster) 88 85 85 84.
368
Rebecca Wilson (Monifieth) 90 90 95 93.
Labels: Amateur Ladies