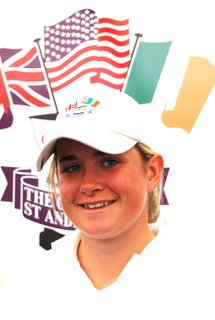 Michele misses top 30 by one
shot but good
news for Lynn,
Krystle, Pamela and Vikki
By COLIN FARQUHARSON
Colin@scottishgolfview.com
Curtis Cup player and Scottish women's amateur champion Michele Thomson from Ellon bogeyed the very last hole for a 78 and missed out by one shot from finishing among the top 30 who earned full playing rights on the 2009 Ladies European Tour at the Final Qualifying School at La Manga Golf Resort, Murcia in south-east Spain.
The long-hitting Aberdeenshire player could manufacture only one birdie, at the 11th, but had six bogeys (1-5-8-12-14-18).
Michele, 20,
pictured right by Cal Carson Golf Agency,
finished on seven-over-par 299 over the par-73 South Course, her closing round being her worst of the tournament in which she had played the first three days very steadily.
She will get to play in some LET events on the 2009 schedule but not as many as the top 30 finishers but her joint 31st ranking from the Tour School will stand her in good stead.
There is an encouraging pointer for the Scot from the experience of Australian Bronwyn Mullins who gained full category membership this week but last season was the leading Category 10b player - and was able to play in 21 of the LET schedule of 29 events.
The other four Scots who survived the 54-hole cut will all be celebrating tonight that they can play on every event on the LET if they wish.
Of the four, only former Scottish women's amateur title-holder Lynn Kenny has been there before. She lost her card at the end of the 2008 season after several years on the circuit. She finished third behind Sweden's Anna Nordqvist (279) and Australian Frances Bondad (282), the Dunblane player signing off with a 73 for seven-under-par 285.
Kenny had birdies at the second, seventh and 14th today and bogeys at the first, 11th and 15th. Afterwards she paid tribute to SLGA national coach Kevin Craggs for getting her back to "the way I used to play."
Fifer Krystle Caithness quit her golf scholarship at the University of Georgia to play at the Qualifying School and her bold move has paid off big-time. The Curtis Cup player finished joint seventh on 289 with a 73 for three-under-par 289. She played as an amateur through both weeks of the LET Q School but will now obviously turn pro.
Krystle had birdies at the fifth and 13th today and bogeys at the sixth and 15th.
Vikki Laing from Musselburgh, who has been based in the United States since her four years on the US college circuit as a University of California-Berkeley student, now qualfies to play regularly in Europe as a tour pro for the first time.
A winner on the US Futures Tour last year, Vikki has not had the best of luck since her excellent amateur career during which she gained Curtis Cup honours and won the Scottish girls title several times.
She was disqualified at the LPGA Tour School in early December after signing for a wrong figure on her scorecard. At La Manga, Vikki signed off with a 71, which included five birdies and was the best score by a Scot on the last day when nerves were jangling, for one-over-par 293
.
Laing had birdies at the fourth, fifth, sixth, ninth and 15th. Her bogeys came at the first, 11th and 17th.
Pamela Feggans, like Vikki, has been a resident of the United States since her days at the University of Florida. She did have outings on the Futures Tour but the chance to play the European Tour on a regular basis could transform her golf career.
Pamela from Patna, Ayrshire had a final round of 76 for three-over 295. Pamela birdied the 12th and 16th but had five bogeys (3-5-9-10-17).
FINAL TOTALS
Par 219 (3 x 73 over South Course, La Manga)
279
Anna Nordqvist (Sweden) 75 69 67 68.
282
Frances Bondad (Australia) 75 69 71 67.
285
Lynn Kenny
(Archerfield Links/Orion Group)
75
(38-37),
69
(37-32),
68
(35-33)
73
(36-37.
286
Christel Boeljon (Netherlands) (amateur) 72 75 69 70.
287
Jenni Kuosa (Finland) 72 70 72 73.
288
Beth Allen (Unitged States) 70 71 72 75.
289
Margherita Rigon (Italy) 72 75 71 71,
Krystle Caithness
(St Regulus) (amateur)
73
(39-34),
74
(36-38),
69
(35-34),
73
(37-36), Elisa Serramia (Spain) 73 69 73 74.
290
Julieta Granada (Paraguay) 72 72 72 74.
291
Isabella Maconi (Italy) 709 78 69 74.
292
Breanne Loucks (Wales) (amateur) 75 74 73 70, Claire Coughlan-Ryan (Ireland) 74 72 73 73.
293
Vikki Laing
(Musselburgh)
76
(37-39),
75
(37-38),
71
(36-35),
71
(34-37), Lara Tadiotto (Belgium) 70 74 75 74.
294
Morgana Robbertze (Soth Africa) 74 74 76 70, Barbara Genuini (France) (amateur) 77 71 72 74, Jo Pritchard (Wales) 77 70 72 75, Smriti Mehra (India) 74 70 73 77.
295
Tara Delaney (Ireland) (amateur) 72 75 74 74, Holly Aitchison (England) (amateur) 76 75 70 74, Hazel Kavanagh (Ireland) 73 77 71 74,
Pamela Feggans
(Patna, Ayrshire)
72
(37-35),
72
(36-36),
75
(36-39),
76
(40-36), Jessica Ji (South Korea) 69 78 72 76, Florentyna Parker (England) (amateur) 76 71 71 77.
296
Claire Aitken (England) (amateur) 74 73 75 74.
297
Camille Fallay (France) 75 72 76 74, Anna-Karin Salmen (Finland) 75 73 75 74.
298
Bronwyn Mullins-Lane (Australia) 80 72 74 72, Malene Jorgensen (Denmark) (amateur) 74 76 73 75.
FOLLOWING WILL HAVE CATEGORY 10b MEMBERSHIP OF L E T
299 Eleanor Pilgrim (Wales) 73 73 79 74, Lena Tornevall (Sweden) 76 75 74 74, Emma Weeks (England) 77 72 75 75, Elizabeth Bennett (England) (amateur) 75 73 75 76, Marousa Polias (Australia) 74 74 75 76, Elena Giraud (France) 77 73 73 76,

Michele Thomson

(McDonald,Ellon) (amateur) 75 (36-39), 74 (38-36),

72

(37-35), 78 (40-38).
300
Sarah Heath (England) 76 73 77 74, Stephanie Na (Australia) (amateur) 75 78 72 75, Melanie Holmes-Smith (Australia) 76 72 75 77, Ana Larraneta (Spain) 75 75 73 77, Caroline Rominger (Switzerland) (amateur) 75 70 76 79.
301
Frederique Seeholzer (Switzerland) 79 75 72 75, Kyra Van Leeuwen (Netherlands) (amateur) 77 74 73 77, Viva Schlasberg (Sweden) 75 79 68 79.
302
Bing Lim (Malaysia) 76 78 72 76, Natascha Fink (Austria) 76 77 72 77, Rachel Bell (England) 71 74 79 78, Anne Norman Hanbsen (Denmark) 78 74 72 78.
303
Anna Highgate (Wales) 70 77 77 79.
304
Maria Ringdahl (Sweden) 80 75 71 78, Tandi Cuningham (South Africa) 74 75 77 78, Marian Riordan (Ireland) 77 75 73 79, Laure Sibille (France) (amateur) 74 76 75 79.
305
Eva Bjarvall (Sweden) 78 74 73 79.
Rookie Anna Nordqvist sets sights on place
in Solheim Cup team in August
FROM THE LADIES EUROPEAN TOUR WEBSITE
Exactly 30 players qualified for category 8a membership of the Ladies European Tour at La Manga Club today. They have all earned the right to play on the LET in 2009.
Sweden's Anna Nordqvist, the 2008 British Amateur Champion, won the event with a four-round total of 279, 13-under-par after rounds of 75, 69, 67 and 68.
Norqvist said that she would now join the Tour. "I'm very happy as this was my goal and it proves that I can play good golf and hit good shots," she said.
On December 7 in America, Nordqvist turned professional after tying for 25th at LPGA Q-School, a shot away from earning her card. She earned priority in Category 13, which means Nordqvist would likely get into just a handful of LPGA events. Now, success at the LET School has made her change her mind about staying on in the States where she had a successful two and a half seasons with Arizona State University.
Nordqvist, who turned professional at the beginning of the year, added that she was hoping to make Alison Nicholas' 2009 European Solheim Cup team that will travel to the United States in August. "I'm just going to play as well as I can and that might be good enough to get into the team. That would be great but if not I will work hard to get into the next one."
Australia's Frances Bondad finished three shots back in second place after a final round of six-under 67, which was the lowest score of the day. She was thrilled to have rediscovered her confidence after a frustrating rookie season in 2008, when she finished in 88th position on the New Star Money List. She now feels ready to take on Europe.
"I think I wasn't confident last year because of all the travelling and everything involved with it being my first year. I didn't know anyone; I was away from home and didn't have a coach so was fixing it all myself, said Bondad.
"I had problems with caddies as well. I think I'm wiser now, happier, more confident and more mature. I've grown up a lot since last year when I was a little fish in a big pond and I know what to do now."
The Australian highlighted her new putting routine as the key to success as well as the work she has done with her new coach Bruce Burrows and sports psychologist John Novak.
Dunblane's Lynn Kenny, who finished third on seven-under-par, also credited her new coach, Kevin Craggs, who she previously worked with four years ago.
She said: "Everything seems to be clicking into place. Kevin is doing a great job. I feel like I am back to my old self and I really want to thank him."
Kenny also had the benefit of Rafael Armand on the bag for the tournament. Armand is normally European No 1 Gwladys Nocera's caddie, but is also Kenny's boyfriend.
Christel Boeljon from the Netherlands finished a shot back in fourth place and was one of nine amateurs to earn their full cards. New members also look set to include three members of last year's GB&I Curtis Cup team - Scotland's Krystle Caithness, who was joint seventh, Breanne Loucks from Wales, and Germany-based Florentyna Parker - French player Barbara Genuini (who won the "Helen Holm" last year), Ireland's former Curtis Cup player Tara Delaney, England's Holly Aitchison and Denmark's Malene Jorgensen.
Labels: LADIES EUROPEAN TOUR