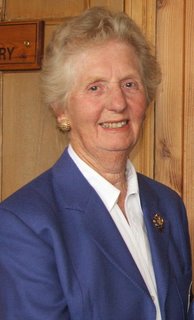 Four named by Ladies Golf Union as
new Honorary Vice-Presidents
PRESS RELEASE ISSUED BY LADIES GOLF UNION
The Annual General Meeting of the Ladies' Golf Union will take place at the Holiday Inn on Ormeau Avenue, Belfast, on Wednesday 21st January 2009 at 12 noon, where Yorkshire's Maureen Lockett will be proposed as the new President of the Union and Ireland's Brigid McCaw will take over as Chairman.
The Executive Council has also invited four former office bearers to become Honorary Vice Presidents of the Ladies' Golf Union in recognition of the work they have done for ladies' golf and their continued loyalty to, and support of, the LGU.
Outgoing President
Joan Neville
(Wales) will remain actively involved in supporting the LGU on her appointment as a Vice President.
Joan, President from 2007-09, has been unstinting in her work for the LGU. Her vast knowledge of golf, hard work and great sense of humour with which she has fulfilled her role has been greatly appreciated by players and officials alike.
Joan says "The best years of my life have been spent with the LGU and the invitation to become a Vice President is the pinnacle of my association. I can assure you that I will continue to support this wonderful organisation and look forward to following the changes due to come in the next few years".
Catherine Booth
(Ireland), President of the LGU from 2004-2007, first became involved in golf administration in the late 1970s and served on both the ILGU Central Council and the LGU Executive Council.
She was Chairman of the Curtis Cup Committee played in Killarney in 1996, when Great Britain & Ireland last won the matches. Catherine is "delighted to be nominated as a Vice President of the LGU at an exciting time in women's golf, when the LGU and Home Countries are addressing issues for the long term good of the game".
After contributing to the game of golf in many capacities at club, county and national level,
Nancy Chisholm
(Scotland),
pictured above,
served as LGU Chairman in 1997 and SLGA President from 2003-2007.
A lifelong member of Prestwick St Nicholas Golf Club, Nancy continues to play golf to an enviable standard, and cites her favourite club and deadliest weapon as "Father's antique hickory jigger!" Nancy is "thrilled to be invited to become an Honorary Vice President of LGU, which I hold in high esteem".
The fourth new Vice President is
Sue Johnson
(England). A well known character in Yorkshire golfing circles, Sue was LGU Chairman in 1994 and President from 2001-04. Sue responded with delight to her invitation to become a vice President and stated "I am mindful of the privilege bestowed on me and pleased to be given the opportunity to continue to support the LGU. Over the years of my involvement in ladies' golf, I have made many friends and had such happy times. I feel very fortunate to be awarded this honour."
The LGU is in the process of implementing its Business Plan which was approved at last year's AGM, and the Executive Council is pleased to confirm that
Shona Malcolm
will continue in the post of Chief Executive Officer to drive the ongoing modernisation initiatives.
Labels: Amateur Ladies