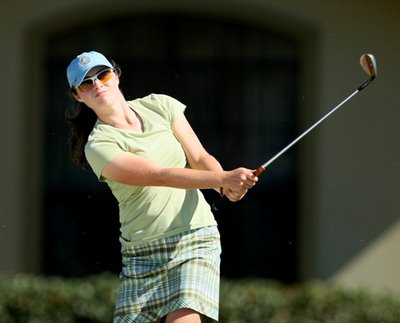 Candace Schepperle, in short-sleeve sunshine, on her way to victory at Sebring, Florida.
Holly top Brit, Kelsey top Scot in Harder
Hall Women's Invitational finale
Stirling University student Kelsey MacDonald, the Scottish Under-21 girls' champion and Nairn Dunbar Golf Club member, finished joint 21st in a big field for the opening event of the Orange Blossom women's amateur golf tour of Florida - the Harder Hall Women's Invitational.
Kelsey scored 78, 75, 73 and 79 for a total of 305 over the par-72 6151yd course at Harder Hall Golf & Country Club, Sebring.
In glorious sunny weather for the tournament, she finished a stroke ahead of Robert Gordon University, Aberdeen student Jane Turner (Craigielaw) from Penicuik. Jane was placed 24th with scores of 78, 78, 77 and 73 for 306.
Stirling student Rachel Cassidy from Dublin shot 81, 80, 74 and 74 for 309 and joint 31st place.
Laura Murray (Robert Gordon Univ) from Alford tied for 35th place with scores of 77, 80, 77 and 80 for 314.
England's Holl Calvert (Stirling Univ) scored 78, 80, 82 and 83 for 323 and 48th place.
Two other Stirling students, Rebecca Wilson from Monifieth and Harriet Beasley from England both totalled 353. Rebecca had rounds of 88, 85, 91 and 89, Harriet 89, 90, 89 and 85.
The best placed British player was England girl international, 17-year-old Holly Clyburn (Woodhall Spa) from Cleethorpes, Lincolnshire.
Holly, joint third at the start of the final round, had scores of 78, 67, 69 and 75 for 289 and a creditable seventh place.
Holly, who finished fourth in the Canadian Golf Association's World Junior Challenge earlier in the year in Florida, has made very good start to her 2009 campaign. She has entered the Hacienda del Alamo February Festival.
Auburn University, Alabama third-year student Candace Schepperle, 20, from Birmingham, Alabama, followed up her success in the Dixie Women's Amateur early in the New Year by winning the "Harder Hall" by seven strokes with an excellent total of 13-under-par of 275.
She set a course record of 65 in her final round after earlier scores of 71, 69 and 70.
Leading final totals (par 288: 4 x 72)
Players from US unless stated
275
Candace Schepperle 71 69 70 65.
282
Amelia Lewis 71 68 73 70, Cindy LaCrosse 72 71 71 68.
285
Jessica Korda 71 76 69 69.
286
Whitney Neuhauser 72 69 74 71.
288
Christy Carter 72 75 73 68.
289
Holly Clyburn (Eng) 78 67 69 75.
291
Alexandra Bodemann 81 69 69 72.
293
Meghan Bolger 76 72 71 74, Wendi Golden 71 77 71 74, Nannette Hill 70 75 77 71.
295
Cydney Clanton 78 72 76 69, Daniela Lendl 73 73 74 75.
Selected scores:

305
Isabelle Lendl 74 75 77 79,
Kelsey MacDonald
(Sco) 78 75 73 79.
306
Jane Turner
(Sco) 78 78 77 73.
309
Rachel Cassidy (Ire) 81 80 74 74.
314
Laura Murray
(Sco) 77 80 77 80.
323
Holly Calvert (Eng) 78 80 82 83.
353
Rebecca Wilson
(Sco) 88 85 91 89, Harriet Beasley (Eng) 89 90 89 85.
NOW READ THE GOLFWEEK.COM REPORT
So this is what it's like to be as good as
Tiger, Annika and Lorena - Schepperle
By BETH ANN BALDRY
Candace Schepperle never broke a sweat at the 54th Harder Hall Invitational – figuratively speaking, of course. In unseasonably warm weather, even by Central Florida standards, Schepperle cruised to her second amateur title of the winter season.
Schepperle's game was so sharp, so controlled, the Auburn junior felt she'd seen a glimpse of what it feels like to be the best. Not the best in Sebring, Florida – the best in the world.
"Today was as close to what like Tiger or maybe Lorena and Annika feel when they're in the lead," Schepperle said. "I was birdie-hunting. That's all I cared about."
Five birdies on the front nine gave Schepperle a commanding seven-stroke lead midway through the final round. She added two more birdies on the inward nine to fire a course-record 7-under 65 Saturday at Harder Hall Country Club.
Schepperle's 13-under 275 total put her six shots clear of her nearest competitors, 17-year-old Amelia Lewis (70) and Cindy LaCrosse (68), a senior at the University of Louisville.
"It was kind of like a skins game out there," said LaCrosse, "everyone making birdies."
Schepperle, a resident of Birmingham, Alabama, also won the Dixie Amateur on January 4 in Coral Springs, Florida, edging Alexis Thompson by one stroke. She finished with a 14-under total, notching four consecutive rounds under par.
In Sebring she did the same, with rounds of 71-69-70-65 to post eight straight sub-par rounds in two weeks. Schepperle, playing for the fourth time in Sebring, finished runner-up to Leah Wigger at the 2007 Harder Hall.
Schepperle's Auburn teammate, Cydney Clanton, played practice rounds with her friend in Sebring and was impressed with every part of her game. Schepperle tends to agree.
"I'm just more consistent overall with everything, physically and mentally," said Schepperle, who finished the fall season No. 5 in the Golfweek/Sagarin College Rankings.
"I love every part of my game right now."At least one person in the Sebring gallery wondered aloud if Amelia Lewis was any relation to Stacy, the newly-minted LPGA pro who won this event in 2006.
No relation. Lewis, a senior in high school, has committed to UCF (University of Central Florida) but isn't entirely sold on school. The Jacksonville, Florida resident earned status on the Duramed Futures Tour last November and plans to use it as soon as she recovers from surgery on her left hand.
"You never know," she said.
Labels: Amateur Ladies