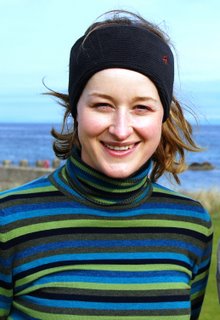 Gastro flu bug scuppered Jo
Carthew's
hopes at LET
Qualifying School
Ladybank's Jo Carthew is now back in Fife after her ill-fated trip to La Manga for the Ladies European Tour Qualifying School Stage 1 competition.
She retired from the competition after returning a score of 90 in the first round.
It now transpires that Miss Carthew had the bad luck to be almost laid low by a gastro flu bug on the eve of the competition.
Travelling companion Greg Mackie explained:
"Jo tried to give it a go in the first round but as you will have seen from the scoring she was nowhere near fit enough to play. We consulted the LET doctor who prescribed her medication and advised her to withdraw from the tournament. Reluctantly she was forced to follow medical advice and pulled out on the Thursday morning."
Jo reached the final of the Scottish women's amateur championship at Lossiemouth last year and was later a member of the Fife team who won the Scottish county team championship at Inchmarlo.
Jo Carthew is pictured above by Cal Carson Golf Agency.


Labels: LADIES EUROPEAN TOUR