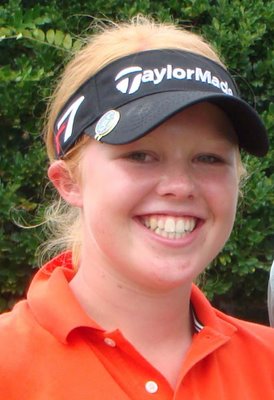 Sally Watson (left) and Stephanie Meadow


Sally and Stephanie in select field
for first Annika Invitational
Curtis Cup Scot Sally Watson and former Irish girls champion Stephanie Meadow - both United States-based teenage students - have been honoured with invitations to join the select field for the inaugural Annika Invitational girls' tournament to be held at the Ginn Reunion Resort, near Orlando, Florida, from January 16 to 19.
Sally's appearance for Great Britain & Ireland in the Curtis Cup match against the United States over the Old Course, St Andrews last May and her outstanding girls' record undoubtedly put her on the list for invitations. She is a student at the David Leadbetter Golf Academy at Bradenton, Florida.
Stephanie Meadow, a student at the International Junior Golf Academy, Hilton Head Island, South Carolina clinched her place with an excellent finish in the recent Arizona Silver Belle tournament at Tempe.
If you want to read more about the Annika Invitational tournament and who else is in the select field, here is the website address:
http://www.ajga.org/2009ANNIKA/
Labels: Girls