Second event on the Orange Blossom women's amateur tour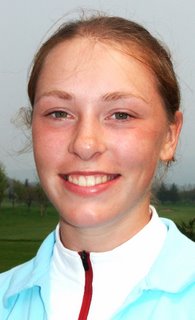 Laura Murray joint sixth with
a 74 in first round of
"The Sally" in Florida
Robert Gordon University, Aberdeen student Laura Murray from Alford was the best placed British or Irish player at the end of the first round of this week's event on the Orange Blossom women's amateur golf tour in Florida, "The Sally" or South Atlantic Ladies Amateur championship at Oceanside Country Club, Ormond Beach.
Laura,
pictured right by Cal Carson Golf Agency
, had a two-over-par 74 with birdies at the first, second and 15th. A double bogey 7 at the long sixth and bogeys at the fifth, long 12th and 18th left her in joint sixth position, six shots behind the joint leaders, home-state Americans Rachel Carpenter and youngster Alexis Thompson who opened up a five-shot lead with matching 68s.
Rachel Connor, son of the Scots-born Manchester club professional, had a 75 which included an eagle 2 at the third and birdies at the fourth and fifth but she double-bogeyed the eighth and dropped other shots at the first, second, 10th, 14th and 16th.
Scottish Under-21 champion Kelsey MacDonald, a student at Stirling University and Nairn Dunbar GC member, had a 77 with only one birdie, at the short ninth. She had a double bogey 6 at the 11th and bogeys at the fifth, seventh, 14th and 16th.
Jane Turner from Penicuik, a student at Robert Gordon University, had double bogey 5s at two short holes, the foufrth and 14th in her round of six-over 78. She birdied the long sixth and 13th and also bogeyed the fifth, seventh, 12th and 18th.
Stirling students Rachel Cassidy from Dublin and Harriet Beasley from Woburn both scored 81.
A third Stirling student, Rebecca Wilson from Monifieth, had a 90.
FIRST ROUND SCOREBOARD
Par 72
68 Rachel Carpenter (Howey in the Hills, Florida), Alexis Thompson (Coral Springs, Florida).
73 Wendi Golden (Lakewood Ranch, Florida), Kira Meixner (British Columbia, Canada), Mandi Morrow (Kent, Ohio).
74 Carol Semple Thompson (Sewickley, Pennsylvania), Megan Chapman (Palm Court, Florida), Maggie Weder (Greenville, North Carolina), Laura Murray (Alford, Scotland).
75 Rachel Connor (Manchester, England).
76 Meghan Bolger (Oakland Park, Florida), Sarah Zwartynwki (Allen, Texas), Tovie St Louis (Royal Palm Beach, Florida), Jessica Yadloczky (Casselberry, Florida).
77 Martha Leach (Hebron, Kentucky), Kelsey MacDonald (Nairn Dunbar, Scotland), Meghan Hughes, New Smyrna Beach, Florida).
78 Reggie Parker (Hobe Sound Florida), Jane Turner (Craigielaw, Scotland), Maddi Swaney (Marietta, Florida).
79 Morgan Bell (Montevallo, Alabama), Ashley Medders (Alma, Georgia).
80 Deb Mielke (McKinney, Texas).
81 Rachel Cassidy (Dublin, Ireland), Harriet Beasley (Woburn, England), Angela Drane (Vernon River, Canada), Sara Young (Jacksonville, Florida).
Other score:
90 Rebecca Wilson (Monifieth, Scotland).
Labels: Amateur Ladies