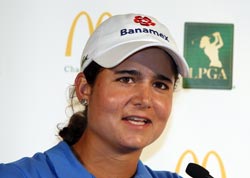 Lorena Ochoa (27) gets engaged
to
sponsor Andres Conesa (39)
Top-ranked LPGA player Lorena Ochoa is engaged. The 27-year-old from Mexico will marry 39-year-old Andres Conesa, the director general of Aeromexico airline, one of her sponsors.
Local media reported Conesa popped the question late last month as the couple vacationed in Europe. Hola magazine's Mexico edition said the pair were planning a wedding at the end of this year.
Ochoa spokeswoman Monica Marron wouldn't give any details, but said a date for the wedding had been set.
It will be the first marriage for Ochoa. Conesa has three children from a previous marriage.
Ochoa, from Guadalajara, has said she wants to eventually leave golf, settle down and have children. But the two-time major champion hasn't yet mentioned plans to retire.
Her friend Annika Sorenstam married Mike McGee last Saturday, four weeks after the Swedish golf star ended her Hall of Fame career so that she could start a family before it was too late.
Labels: Pro Ladies