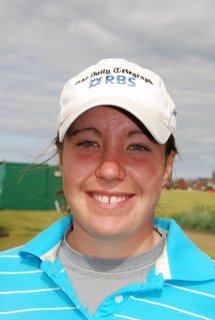 Denver student Ellie Givens
wins
Silver
Tee for combining
golf and studies
PRESS RELEASE ISSUED BY ENGLISH WOMEN'S GOLF ASSOCIATION
County Durham's Ellie Givens is a success on the golf course and at her studies – and her dual skills have won her an award from the English Women's Golf Association.
Ellie, 19, who plays at Blackwell Grange, is the winner of the Silver Tee award for the way she combines her golf and her education.The award was announced at the annual meeting of the association but Ellie,
pictured above by Cal Carson Golf Agency
, was unable to accept in person – because she is a student at the University of Denver in the USA.
But the former English girls' champion sent an email message to the meeting. She told members: "I have put a great deal of effort and time into both my academic studies and my golf. It's been very hard work but also extremely enjoyable and rewarding. It means a great deal to me that this has been recognised and I intend to go on trying to raise my standards in the future."
Ellie is in her second year at university and is studying finance. She won the English girls' championship in 2007 and also represented England at the girls' European team championship and girls' home internationals.
In the same year she won the Durham stroke-play and girls' championships. Last year, she achieved good results in US college tournaments, including two top-10 finishes. During her summer break at home she was third in the English stroke-play championship and reached the match-play stages of the British championship.
Lyndsey Hewison
Press & PR Officer
Labels: Girls