Scottish amateur champion turned pro on January 17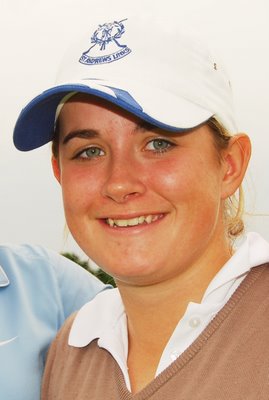 A big thank-you to one and
all from Michele Thomson
Michele Thomson would like to thank the many well wishers for the support she received while playing in La Manga at the European Tour School Pre and Final qualifying.
While it was disappointing to miss out on a Top 30 place, Michele is pleased that she has secured her Tour Card and as a result she turned Professional on January 17, 2009 and aims to take her chances on the European Tour where it is thought entry to 18-20 tournaments can be achieved.
Over the next few months Michele aims to continue the hard work in the gym and practice areas in an effort to be in top condition for her first tournament and she also sees herself hard at work letter-writing in an effort to secure sponsorship and funding for a life on the tour.
Michele wanted to use Kirkwood.co.uk to thank everyone she came into contact with during her amateur career, namely the SLGA, GB&I, Aberdeenshire Ladies, McDonald Ellon Golf Club and more recently the Paul Lawrie Golf Foundation.
As for all the individuals who have supported her over the years, Michele says there are far too many to mention and therefore decided to list only her family who have encouraged her from the first day she picked up a golf club at the age of 13.
Michele goes on to say that she will miss representing Scotland at home and abroad as an amateur. She has fond memories of many tournaments but especially with the girls in Ireland which she still rates as one of the best teams she was lucky enough to play in.
She wishes Kevin Craggs, the SLGA and all the Scottish teams in 2009 the very best during the season and hopes to find time to attend some tournaments and offer her former team-mates some vocal support.
Wishing everyone well in 2009
Michele Thomson
Labels: Pro Ladies