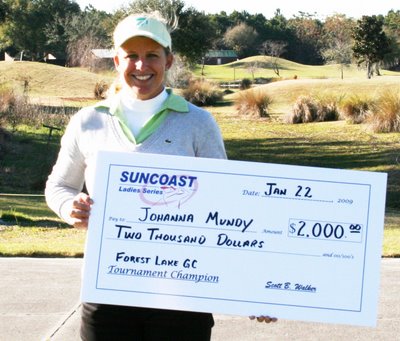 Johanna wins the $2,000 first prize again on
the SunCoast Ladies Series in Florida
Two wins out of two - that's Johanna (Head) Mundy's record on the SunCoast Ladies Series pro tour in Florida this year.
Johanna, who will be 36 next month (so will her twin Samantha, both from Ascot), won last week's tournament and the $2,000 first prize.
This week, Mrs Mundy did it again. She strung together rounds of 75, 67 and 70 for a four-under-par total of 212 to win the event at Forest Lake Golf Club, Ocoee, Florida. The standard first prize is $2,000 on this women's circuit for which the registration fee is $175 and the entry fee for each competition $450 for lady professionals and $150 for amateurs.
Johanna won by one shot from the overnight leader, M J Hur (South Korea) who had scores of 72, 69 and 72 to win $1,000.
Johanna, who married Ian Poulter's caddie Terry Mundy in 2005 and now lives in Orlando, told the SunCoast Ladies Series website:
"I played well. I came into this event with a game plan in mind but the weather was horrible with strong winds during the first round. I had to change my thinking and adapt to the conditions and struggled a bit hitting my targets.
"During the second round, I was able to execute by hitting my targets on the greens. This is a great golf course but the greens are difficult and if you are not in the right spot they can be tough to putt. Coming into the final round one shot behind it was my plan to remain focused and play my game, hitting my targets on the greens and making putts."
Roswell, Georgia's Margaret Shirley finished alone in third after a final round two under par 70 got her to one under in her first professional tournament.
Samantha Head finished fourth and earned $825 for scores of 70, 75 and 71 for a level par total of 216.
Solheim Cup and LPGA Tour player Paula Creamer finished joint fifth on 217.
The SunCoast Ladies Series moves on to Rio Panar Country Club, Orlando, Florida next week. We'll give you daily updates.
Par 216 (3 x 72) 6,200yd
212
Johanna Mundy (England) 75 67 70 ($2,000).
213
M H Hur (South Korea) 72 69 71 ($1,000).
215
Margaret Shirley (Georgia) 72 73 70 ($900).
216 Samantha Head (England) 70 75 71 ($825).
217 Paula Creamer (California) 75 71 71, Jin Young Pak (South Korea) 72 73 72 ($737 each).
219 Charlotte Campbell (Florida) 75 72 71 ($675).
27 Competitors took part. There was no cut.
Labels: Pro Ladies