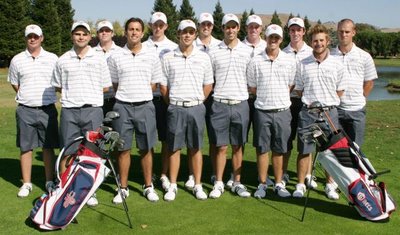 The Saint Mary's College golf squad with Euan Brown third from the right.
You can enlarge
the image by clicking on it
.
for Euan
Brown, he's already there!
Oh, to be in California, now that winter's here in Scotland!
But Ayrshire-born six-footer Euan Brown is already there in California. Lucky boy.
Euan is in his first year as a golf scholarship student at Saint Mary's College, which is based in the Moraga community about 12 miles east of Oakland.
Euan is a former pupil of Troon's Marr College.
He was the Ayrshire boys' stroke-play champion of 2007, the same year that he won the Ayrshire boys' order of merit.
Labels: US COLLEGES