Hacienda del Alamo Festival sponsors lead the clothing field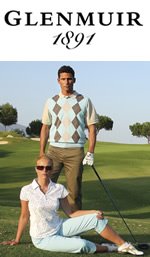 Glenmuir Launch 2009
Spring/Summer
Collection
Glenmuir, one of European golf's leading and most recognisable clothing brands, promises golfers an enviable range of products with the launch of the new Glenmuir 2009 Spring/Summer collection.
The collection marks the largest ever product launch in Glenmuir's illustrious 117 year history and increases the number of high quality clothing choices available to golfers through the 1891 Glenmuir, Men's Performance, Men's Classic and Ladies' collections.
With a range of new colours available, Glenmuir is promising that the 2009 Spring/Summer collection will provide golfers with golfwear that is fashionable and stylish as well as offering the very highest levels of performance in all weathers.
Andy Bough, Glenmuir's Marketing Director, said: "I am pleased and proud to announce the launch of our new Spring Summer 2009 collections. Our focus on fashion, style, colour and performance brings you fresh new seasonal colours for men and women, and a new sport-fashion look which coordinates across shirts, knitwear, outerwear and trousers."
"We have received a fantastic reaction to the new branding we launched this year, and this new brochure showcases the further development of the exciting new look we are giving the Glenmuir brand across men's, women's and kids' collections.
"And we have made sure golfers whom prefer a more classical look are extremely well-catered for too. I believe this latest collection has our widest universal appeal to date."
Lanark-based Glenmuir have been making golf clothes since 1891 and continue to be at the forefront of the game with ongoing partnerships with both the European Ryder Cup Team and the European Tour.
The flagship 1891 Glenmuir collection has been updated to include four luxury cotton polo shirts – Moortown, Archerfield, Gullane and Valderamma as well as the Duke's Pima cotton slipover. Andy Bough said of the new 1891 collection: "Golfers can be confident that products which carry the distinctive silver and black 1891 Glenmuir branding are premium quality, using the finest fabrics."
The 2009 Men's Performance range has been extended to allow golfers to choose from even more of the high-tech performance wear for which Glenmuir is famous. The range includes Hi-Cool performance shirts and Rain Bloc waterproof clothing.
The
Men's Classic collection
now stretches to some 25 items including shirts, knitwear, trousers and shorts. Glenmuir's commitment to providing the latest styles combined with the excellence golfers expect from Glenmuir products has ensured the enduring popularity of the Men's Classic range.
The
Ladies' Collection
has become Glenmuir's fastest growing range and the new Spring/Summer collection includes 22 different items including luxury cotton polo shirts, knitwear, performance shirts, fleeces, luxury lambswool, merino and cashmere knitwear, wind shirts, waterproofs, trousers, shorts, headwear and socks.
The Ladies' Collection also utilises Hi-Cool, Rain Bloc and Storm Bloc fabrics to provide fashionable, stylish designs that combine great looks with the highest performance, whatever the weather.
+Glenmuir are very generously donating prizes at next month's Hacienda del Alamo Women's Winter Festival, just as they did for the inaugural Festival in February 2008.
Labels: Golf products