Orange Blossom Tour event at Coral Ridge Country Club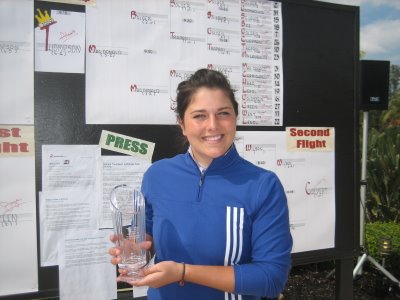 Kelsey MacDonald with her runner-up trophy after the Jones-Doherty match-play final today.
KELSEY LOSES TO US WONDER KID ALEXIS

IN FINAL OF FLORIDA MATCH-PLAY
Scottish Under-21 girls' golf champion Kelsey MacDonald of Nairn Dunbar Golf Club lost to the 13-year-old United States girls title-holder, Alexis Thompson from Coral Springs, Florida in today's 18-hole final of the Jones-Doherty women's amateur match-play championship at Coral Ridge Country Club, Fort Lauderdale in Florida.
Kelsey, 18-year-old first year sports studies student at Stirling University, played brilliant golf to reach the final, including a 3 and 2 semi-final win over Meghan Bolger, twice winner of the US women's mid-amateur title and a member of the winning American Curtis Cup team at St Andrews last May.
But in the final Kelsey went down by 5 and 4 to a rare talent, Alexis Thompson, the wonder kid of US girls golf - she will be 14 on February 10 - who won last week's South Atlantic Ladies amateur championship at Oceanside Country Club, Ormond Beach - the second event in the Orange Blossom tour of Florida. MacDonald finished third in that event.
Kelsey's ambition is to play for Great Britain & Ireland in the 2012 Curtis Cup match which will be played in her home town of Nairn. Alexis Thompson is certain to be in the next US women's amateur line-up that comes to Scotland and might even make the team for the 2010 match in the States ... so too might Kelsey MacDonald for that matter!
The students, who have also included Laura Murray (Alford) and Jane Turner (Craigielaw) of Robert Gordon University, Aberdeen, now return home after having spent three weeks in America competing on the Orange Blossom Tour. The trip was funded through Stirling University's International Sports Scholarships Programme.
SATURDAY FINALS

CHAMPIONSHIP
Alexis Thompson (US) bt
Kelsey MacDonald
(Scotland) 5 and 4.
Jaye Marie Green (US) bt Laura Carson (US) 2 and 1.
Carolyn Creekmore (US) bt Anna Schultz (US) 2 and 1.
FROM THE FLORIDA SUN SENTINEL NEWSPAPER WEBSITE:
At 13 years, 11 months and 14 days, Alexis Thompson became the youngest winner in the 77-year history of the Jones-Doherty Cup, eclipsing Vicki Goetze's record by more than two years. Goetze was 16 years, 3 months and 4 days old when she won it in 1989.
Thompson's name will be engraved on a prestigious cup along with past champions that include World Golf Hall of Famers Babe Zaharias, Patty Berg, Louise Suggs and JoAnne Carner.
Thompson's signature isn't valued so much for the junior and amateur records she's decimating in her meteoric rise as it is for the promise of what seems ahead.
"There's no limit for her, in my opinion," said Jim McLean, the Doral-based swing instructor who works with Thompson. "By getting a few things cleaned up, she's got the potential to be a top-five player in the world, to be No. 1 in the world. I don't know if that's putting too much on her shoulders right now, but she has that kind of talent. She could do very well in LPGA events right now."
Already the No. 1 junior in the Golfweek/Titleist national rankings, Thompson plans to ease into more women's amateur events this summer.
Saturday's victory marked the end of Thompson's tear through the middle of the Orange Blossom Tour, a winter staple for women's amateurs. She became the youngest winner in the history of the South Atlantic Ladies Amateur the previous weekend in a record-setting 13-shot rout.
She's the reigning US Girls' Junior Champion as well as the youngest winners of the US Junior PGA Championship and Doral Publix Junior Championships and the youngest ever to qualify for the US Women's Open.
In her last five starts, Thompson has won three of them, lost one in a play-off and finished second in the other. This run included her victory at the Ginn Open Got Game Challenge, which earned her a spot in the LPGA event in Orlando in April. She's also hoping to be among the amateurs awarded exemptions to the LPGA's first major of the year, the Kraft Nabisco Championship.
"This has definitely been a good stretch," Thompson said. "Winning here, getting my name on this trophy, it definitely means a lot to me."
Labels: Amateur Ladies