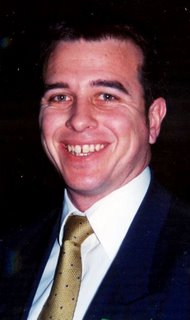 SGU-SLGA amalgamation
being "seriously
discussed,"
says Hamish Grey
FROM THE EDINBURGH EVENING NEWS WEBSITE

By WILLIAM DUNCAN

An almagation between the Scottish Golf Union and the Scottish Ladies' Golfing Association will not only happen but it will be a positive step for the amateur game, it was claimed today.
Talks about a merger between the two bodies have been taking place and, though still at an early stage, the matter was the subject of a workshop prior to yesterday's SGU annual general meeting at Tulliallan."
An amalgamation in Scotland is being seriously discussed," confirmed Hamish Grey, the SGU's Chief Executive Officer,
pictured by Cal Carson Golf Agency
.
"We already have a working group made up of representatives of both bodies and I am hopeful that we will have some details on the matter later this year.
"The amateur game in Wales is already run by an unified body, while talks have recently resumed in England about the same thing happening there.
"We are well aware of what has been done in Wales and also what our continental counterparts have in place, while similar moves have also been made in both Australia and New Zealand," added Grey.
Speaking after he was installed as the SGU's new vice-president, Bathgate's Bert Leslie welcomed talk of a possible amalgamation."While it might not be as straightforward as some people think, it is going to happen and I'm sure everyone will benefit," said Leslie.
"The cost of renting offices would be reduced if everyone was under the one roof while other running costs would also be cut, too."
Alistair Low, the SGU's outgoing chairman, added: "The biggest hurdle in this happening is the existing structure as they are quite different in many respects.
Labels: Amateur Ladies