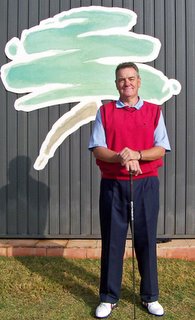 Hacienda Del Alamo's John Green
wins Senior Pro Golf Tour
Europe's Order of Merit
Hacienda Del Alamo professional golfer John Green, the man who has done most of the organising of accommodation for Hacienda del Alamo Women's Winter Festival competitors, has won the order of merit for the 2008 season on the Senior Pro Golf Tour Europe in his first year as a Pro.
The final event of the season at Alboran Golf in Almeria, Spain on December 3 was Green's third win on the over-50s tour in 2008. Rookie pro Green aged 53, turned professional in 2008 and this was also the inaugural season for the Seniors Pro Golf Tour Europe.
Hacienda Del Alamo professional and
Hacienda Golf Properties
Director John Green moved from Kent to Spain in April of 2006 in order to work on his golf.
"I was sold on Hacienda Del Alamo, the course, the academy and practice areas and of course the sun."
A two-handicap amateur only three years ago, Green is as astonished as most observers at his progress and commented: "I gave myself five years to try and find a game that would stand up to this level of competition and had no expectations for this season.
"I turned pro because I was advised that, in terms of survival on a pro tour, building experience was as important as the golf swing and so I concluded that the sooner I start the process of gaining experience on a tour, the better."
The Seniors Pro Golf Tour - not to be confused with the European Seniors Tour - staged six events in 2008 and Green took pole position in three of them as a well as a second and a fourth place.
The first event was at Sokolov GC in the Czech Republic in June and the second, a few days later, was only a short drive away in Stifland Golf Club in south-eas Germany.
Green performed superbly in his first two senior professional events, scoring under par in three of the six rounds.
The third win of the season came at the last event, in Almeria, Spain at the Alboran Golf Club where Green again won from Simon Parker, an Englishman based in Germany, a repeat of the standings from Germany.
In all three events that he won Green led the tournaments from the first round to the last.
Hacienda Golf Properties SL offers luxury villas and apartments for sale or rental at Hacienda Del Alamo Golf Resort in Murcia Spain
http://www.hdagolfproperties.com/
Sponsorship opportunities of John Green as a golfer are still available for the 2009 season.
Hacienda Del Alamo Golf Resort is one of Spain's most prestigious new resorts located in Murcia and with one of the longest golf courses in Europe at over 7300 yards designed by renowned golf course architect Dave Thomas.
Labels: Senior men