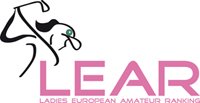 European Golf Association
Newsletter
2009 Ladies' European Amateur
Ranking has new system
A new European Ladies' Amateur Ranking (LEAR) will begin in 2009 and is an adaption of the proposed Women's World Amateur Golf Rankings (WWAR).
It will be administered in the same way but has a selected sub-set of events, mostly European.
The LEAR will be more comprehensive than the current Ladies' ranking system used by the European Golf Association and will be used as the basis for player points in the EGA Ladies' International Team Eclectic or "ELITE" (see below).
The EGA Championship Committee has determined that if the WWAR becomes active during the 2009 season, it will immediately replace the LEAR. However, ELITE points still still be accumulated solely by points earned in the LEAR counting events as listed.
The first counting event for the season will be the Portuguese Ladies Open Amateur (January 29 to February 1).
For more information regarding the LEAR, please see the EGA website.
Labels: Amateur Ladies