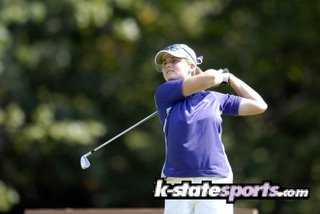 Last round triple bogey kills
Ami's
hopes of top-20 finish
in Arizona
Ami Storey (Kansas State University) from Ponteland dropped out of the top 20 in a field of 102 players over the final round to finish joint 22nd in The Duramed Collegiate women's tournament over the Quail Run course at Rio Verde Golf Club, Arizona.
Ami,
pictured above from the Kansas State University website
, scored 77, 74 and 77 for 228 over a par 71 course of some 6,260yd. She had a triple bogey 7 at the seventh in her final round which killed her top-20 hopes.
Welsh champion Kirsty O'Connor scored 75, 79 and 85 to tie for 63rd place with a disappointing total of 239. In her final round she had a triple bogey 7 at the sixth, a double bogey 6 at the seventh and a double bogey 6 at the 13th. She had no birdies in halves of 42 and 43.
Stacey Rodger (Missouri State) tied for 69th place on 240 with scores of 81, 79 and 80. She had a double bogey 5 at the short fourth in her final round.
Meghan Gockel (Kansas) beat Sara Wikstrom (Arkansas-Little) at the first hole of a sudden death play-off after they had tied for victory on 218, Meghan with scores of 73, 72 and 73, Sara with rounds of 74, 73 and 71. In regulation play, Meghan bogeyed the 18th in her final round, Sara birdied the 18th.
Kansas (883) won the team title ahead of Arkansas-Little Rock (907) with Eastern Michigan (914) third in a field of 20 teams.
Labels: US COLLEGES