Wind produces some extraordinary scoring at Southernes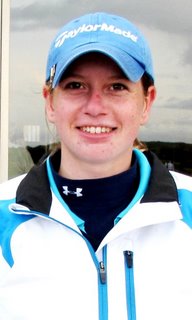 Out in 45, Home in 31 ... it's a game
of two halves for Pamela Pretswell!
By COLIN FARQUHARSON
The southwesterly half-gale - or maybe it was a full-gale - whipping in off the Solway Firth wreaked havoc in the first qualifying round of the Scottish women's amateur championship over the Southerness links this morning.
But where's there a will, there's a way and Pamela Pretswell, prevented until now from making her debut in the championship by first school and then Glasgow University exams, went to the top of the class with a remarkable scorecard which added up to 76, three over but, in the very windy conditions, a brilliant effort.
Pamela, recent winner of the West of Scotland title and, last year, the Swiss women's open amateur championship, took a while to get to terms with the wind. She had a triple bogey 7 at the first and then four bogeys before she had a double bogey at the sixth. Her first par figure amd at the seventh - and then she promptly bogeyed the next.
But, it was at the long ninth that the Pretswell rags-to-riches golfing transformation took pace.
She covered her last 10 holes in one eagle (at the long 16th), six birdies (at the long ninth, short 10th, 12th, long 13th, 14th and long 18th). Only one blemish, a bogey at the 17th.
All that added up to nine over par for the first nine holes and six under par for the second nine.
And that just about summed up a day of tribulations for every single player in the field of 80, whether they finished the day in the pole position or at the other end of the piile.
Kylie Walker (Buchanan Castle) used her strength to birdie four of the par-5 holes to salvage a second-placed 77 after being four over par after only five holes. She had double bogeys at the second and the 11th in halves of 39 and 38.
Kelsey ran up a quintuple bogey 9 at the first hole but managed to finish in 78, which represents a great comeback from a start which reminds me of the competitor in one Scottish men's amateur championship a few years back. He played only one hole and had such an astronomical score at it, that he quit and walked back to the clubhouse instead of on to the second tee.
But the Scottish Under-21 champion from Nairn Dunbar is made of sterner stuff than that, even though she dropped more shots at the short fourth and short seventh on her way to six-over-par 42 to the turn. But she came home with a wet sail as they say in nautical terms, birdieing the 13th and 16th and having only one bogey, at the 17th, in one-under-36 for the second half.
But if the strength and direction of the wind is reflected in Pretswell's 45-31 and MacDonald's 42-36 halves, what are we to make of British universities champion Jane Turner (Craigielaw) turned the equation on its head and reducing the more difficult outward half to 37 shots - equalled only by last year's Clark Rosebowl winner Susan Jackson (Ladybank) - but requiring 43 blows to come home. Mind you, nine of those 43 shots were taken at one hole, the 12th!
There are 33 players with scores of 84 or better going into the second round, after which the top 32 will qualify for the match-play stages.
There is always a play-off to determine the precise number of 32 and using the old golfing lore of doubling 84 and adding 1, that suggests that 169 will be the total of those involved in the play-off.
The weather forecast is not much better than it was today, perhaps the wind dropping by several knots but still blowing.
FIRST ROUND SCOREBOARD
Par 73 (36-37). CSS 78
76
Pamela Pretswell (Bothwell Castle) 45-31.
77
Kylie Walker (Buchanan Castle) 39-38.
78
Kelsey MacDonald (Nairn Dunbar) 42-36, Ailsa Summers (Carnoustie Ladies) 41-37.
79
Carol Wilson (Murcar Links) 38-41, Gillian Monteith (Portpatrick Dunskey) 41-38, Lorna Bennett (Ladybank) 41-38, Katy McNicoll (Carnoustie Ladies) 40-39, Noreen Fenton (Dunbar) 42-37.
80
Elaine Cuthill (Lanark) 42-38, Susan Jackson (Ladybank) 37-43, Clare-Marie Carlton (Fereneze) 41-39, Rachael Watton (Mortonhall) 41-39, Sheena Wood (Aberdeen Ladies) 44-36, Jane Turner (Craigielaw) 37-43, Rachael McQueen (Troon Ladies) 40-40.
81
Diane MacDonald (Dumfries & Co) 40-41, Louise Kenney (Pitreavie) 38-43, Jordana Graham (Southerness) 43-38.
82
Lesley Hendry (Routenburn) 42-40, Rebecca Wilson (Monifieth) 46-40, Karen Marshall (Baberton) 43-39, Laura Murray (Alford) 39-43, Ann F Ramsay (Kirriemuir) 40-42, Linda Bain (Lochend) 42-40.
83
Claire MacDonald (Gullane Ladies) 41-42.
84
Elaine Moffat (St Regulus) 42-42, Megan Briggs (Kilmacolm) 41-43, Emily Ogilvy (Aucherarder) 41-43, Anne Laing (Vale of Leven) 48-36, Alyson McKechin (Elderslie) 42-42, Sheila Cuthbertson (Peebles) 42-42, Fiona Gilbert (Carnoustie Ladies) 44-40.
PROJECTED CUT-OFF POINT FOR MATCH-PLAY QUALIFIERS AFTER ROUND 2

85
Fiona de Vries (St Rule) 42-43, Eilidh Briggs (Kilmacolm) 44-41, Alexandra Bushby (Strathmore) 45-40, Linda Urquhart (Banchory) 42-43, Samantha Leslie (Westhill) 44-41, Jacqueline Sneddon (Alyth) 40-45, Gail Wilson (Monifieth) 45-40, Gillian Lockhart (Kilmarnock Barassie) 45-40.
86
Lesley Atkins (Minto) 45-41, Margaret Tough (Falkirk) 46-40, Martine Pow (Selkirk) 43-43, Aileen Hunter (Monifieth) 45-41, Jennifer Jenkins (Ralston) 43-43.
87
Mary Summers (Carnoustie Ladies) 41-46, Ashleigh Wilton (Ladybank) 42-45, Linda Caine (Dunbar) 46-41, Carol Whyte (Windyhill) 45-42, Helen Faulds (Douglas Park) 43-44, Heather Anderson (Alyth) 42-45.
88
Gillian McGinlay (Cochrane Castle) 45-43, Susan Ireland (Prestonfield) 45-43.
89
Wendy Nicholson (Broomieknowe) 44-45, Sara Bishop (Windyhill) 45-44, Claire Hargan (Mortonhall) 46-43, Jill Harrison (Cruden Bay) 44-45, Kirsten MacCallum (Newburgh-on-Ythan) 46-45.
90
Laura McLardy (Murcar Links) 49-41, Kirsten Blackwood (Craigmillar Park) 43-47, Pamela Williamson (Baberton) 45-45, Winifred MacCallum (Falkirk) 47-43.
91
Wendy Wells (Peebles) 47-44.
92
Addi Shamash (Kirkcudbright) 46-46, Sammy Vass (Tain) 49-43, Louise Fraser (Kingsknowe) 48-44, Fiona Blair (Carnoustie Ladies) 48-44, Elaine Whyte (Windyhill) 47-45.
93
Diane Moncrieff (Lochend) 51-42.
94
Fiona Hay (Deeside) 49-45, Fiona Fullerton (Huntly) 48-46.
96
Fiona Macgregor (Thornhill) 44-52.
97
Lynne Terry (Cruden Bay) 46-51, Bobbi Waugh (Moorhall) 50-47.
102
Ruth McIntyre (Windyhill) 50-52, Ann McDonald (Windyhill) 51-51.
108
Lindsay Mathie (Windyhill) 51-57.
119
Tracey Masterton (Windyhill) 60-59.
Labels: Amateur Ladies