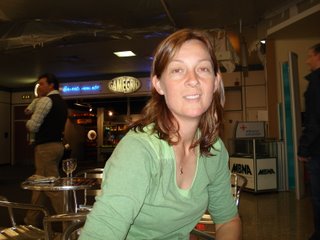 Angus Cappi makes
it
five in a row
for
Kirriemuir coach
Karyn Dallas
Angus Cappiís win in the Golf Data Lab Scottish youths championship at the weekend meant that for five straight years a player coached by Kirriemuir Golf Club professional Karyn Dallas,
pictured above,
had won either a Scottish or British championship.
In the early days as a female coach Karyn was often frustrated at the lack of male players coming for coaching but over the past two years things have changed and the victory by Carnoustie Golf Club member Cappi hid the fact that another Dallas-coached player, William Bremner from Edzell, finished two shots behind in third position.
The girls on Dallasís programme are showing what can be achieved with two earning tour cards and in the recent fifth place for Pamela Feggans in the Ladies Portuguese Open.
Dallas now has four boys and four girls on her elite programme and is expecting three to head for tour school this year.
Dallas, one of the few coaches ever to graduate from the PGA with an ďAĒ for swing knowledge, was frustrated by criticism early in her career for being too simplistic and not placing enough emphasis on swing development.
Karyn always refuted this, pointing out that some of the best players in the world have unusual swings and that a coach had to be able to adapt to the players and not the other way around if the players were to maximise their potential.
Who can disagree? Her achievements speak for themselves but Karyn is keen to point out that there is much still to be done.
For more information on Karyn Dallasís work you can visit her website
http://www.tg54.com/
Labels: Amateur Ladies, Amateur Men