Mary McKenna's squad rally on last day but lose 13-11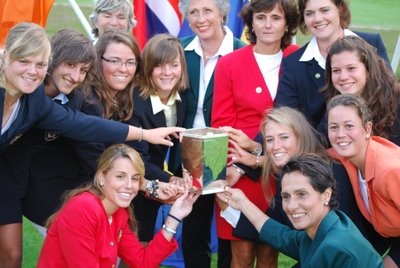 The victorious Continent of Europe team with the Vagliano Trophy at Hamburger Golf Club and (below) Scots Pamela Pretswell, Kylie Walker and Sally Watson chill out after the match (both images by courtesy of Gillian Kirkwood).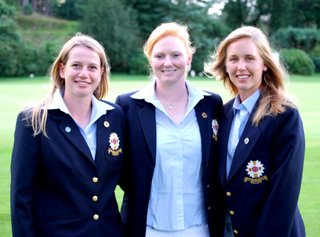 GB&I win final set of singles
Vagliano Trophy
Skipper Mary McKenna's Great Britain & Ireland team finished with their tails up by winning the final singles 5-3 - the only one of the four sessions of play over the two days that they did not lose - but the Continent of Europe retained the Vagliano Trophy women's biennial amateur international trophy by a 13-11 margin at Hamburger Golf Club, Falkenstein in Germany.
The Continentals started the second and last day with a 7 1/2-4 1/2 advantage from winning the first day foursomes 2 1/2-1 1/2 and opening singles 5-3.
This morning on another thunderstorm-hit day, the Continent of Europe repeated that 2 1/2-1 1/2 foursomes victory to start the final eight singles with a 10-5 advantage.
There were fears that Spanish captain Macarena Campomanes' squad were going to repeat the record victory, 15-9, they achieved at Fairmont St Andrews two years ago but the Brits and the Irish finally came good in the last session, winning the singles 5-3 to cut their margin of defeat to 2pt.
In fact, Great Britain & Ireland actually "won" the second day's 12pt by 6 1/2 to 5 1/2pt.

GB&I's winners in the singles were Scots Sally Watson (Elie & Earlsferry) and Pamela Pretswell (Bothwell Castle), England's Rachel Jennings, and one of the 14-year-old Irish twins, Lisa Maguire.
The other twin, Leona, gained a square match as did England's Jodi Ewart.
GB&I's most successful players with the 14-year-old Maguire twins who were setting a record by becoming the youngest ever players to play for the GB&I adult women's team in either the Vagliano Trophy or the Curtis Cup.
Both Leona and Lisa had two wins and a halved match apiece with one defeat each to give them 2 1/2pt out of a possible 4pt.
Rachel Jennnings and Rhian Wyn Thomas came next with 2pt each.
Pamela Pretswell gained 1 1/2pt out of a possible 3pt and Sally Watson finished up with 1pt from three games. Danielle McVeigh had 1pt from four games.
Kylie Walker had half a point from two games.
Curtis Cupper Jodi Ewart would have been disappointed with her no-wins record. She halved two and lost two for 1pt out of a possible four, the same total as Danielle McVeigh had from one win and three losses.
SCROLL DOWN FOR GILLIAN KIRKWOOD'S EYE-WITNESS REPORT :
Match Details:
CONTINENT OF EUROPE 13, GREAT BRITAIN & IRELAND 11

First-day scoreline: Continent 7 1/2, GB&I 4 1/2
Second-day scoreline: Continent 5 1/2, GB&I 6 1/2
Saturday's results
Continent of Europe names first
FOURSOMES
(2 1/2-1 1/2)
Caroline Hedwall (Ger) & Marieke Nivard (Net) bt Jodi Ewart (Eng) & Rachel Jennings (Eng) 2 holes.
Lucie Andre (Fra) & Rosanna Crepiat (Fra) bt Leona Maguire (Ire) & Lisa Maguire (Ire) 4 and 3. Laura Gonzalez-Escallon (Bel) & Marion Ricordeau (France) halved with Pamela Pretswell (Sco) & Kylie Walker (Sco).
Pia Halbit (Ger) & Caroline Masson (Ger) lost to Danielle McVeigh (NIr) & Rhian Wyn Thomas (Wal) 4 and 2.
SINGLES (3-5)
Hedwall halved with Ewart.
Nivard lost to Jennings 3 and 2.
Adriana Zwanck (Spa) lost to Sally Watson (Sco) 1 hole.
Ricordeau bt McVeigh 2 and 1.
Gonzalez-Escallon bt Thomas 3 and 2.
Masson halved with Leona Magire.
Andre lost to Pretswell 4 and 3.
Halbig lost to Lisa Maguire 2 and 1.
GILLIAN KIRKWOOD REPORTS ON AN EXCITING AFTERNOON
:
At one point it looked as if the GB&I girls could do it, but in the end the European lead of four points was too much to overcome.
We knew before we went out after lunch that we had to win six out of the eight games to halve the match, so a margin of 6.5 to 1.5 was needed to win.
Jodi Ewart fought all the way in the top singles, and coming down the last needed a birdie 3 to put the first full point on the board against her experienced opponent, Caroline Hedwall of Sweden. A superb shot to 8 ft after her opponent's shot to 20ft gave the spectators some hope and when Caroline missed her putt we all wished Jodi's into the hole but it was not to be and a half went down on the scoreboard for both sides.
Rachel Jennings was never down against Marieke Nivard of the Netherlands. At one point she was five up, and her 3 and 2 win gave us our first full point.
Sally Watson gave us a scare as she was always up against Adriana Zwanck, but came down the last needing a half to win. Her opponent'ss ball just missed the hole and Sally had a comfortable two putts for a win.
But behind them both Danielle McVeigh and Rhian Wyn Thomas were struggling against Marion Ricordeau and Laura Gonzales-Escallon. At practically the same time they both lost, Danielle at the 17th and Rhian at the 16th, and that was it ... GB&I had lost the match.
Leona Maguire and Caroline Masson finished all square. Pamela Pretswell had a comfortable 4 and 3 win against Lucie Andre and Lisa Maguire came down the last all square and kept her cool after missing the green on the left to win the hole after her opponent had an awkward bunker shot and two putts.
And so the result was 13 to 11 for the Continent of Europe.
The Hamburger Golf Club could not have been more accommodating for the many spectators who invaded the clubhouse during the frequent rain showers which speckled the day.
Labels: Amateur Ladies