Susan pips Gillian for "leading lady" award over new Torrance course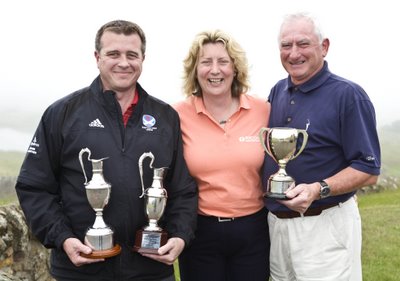 Susan Simpson, the LGU's Head of Operations, pipped Gillian Kirkwood, the LGU vice-chairman for the "Leading Lady" award in yesterday's Scottish Golf Writers' championship over the mist-shrouded and revamped Torrance Course at Fairmont St Andrews. Hamish Grey (left), the SGU chief executive, won two of the three main male awards. Malcolm Campbell (right) won the writers' championship for the Alex M Fox Trophy.
Full story and all the leading scores are available on our other website,
www.scottishgolfview.com
(image by courtesy of Peter Kelly; double click to enlarge).
Labels: Amateur Ladies, Amateur Men