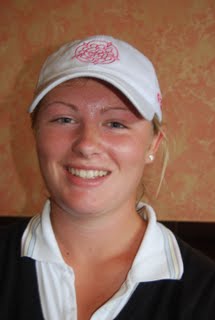 Hannah Turland (15) surges three
shots clear with late-in-the-day 72
Fifteen-year-old Hannah Turland from Tidworth, Wiltshire played the round of her young life to come out of the blue and storm into a three-shot lead at the halfway stage of the British women's open amateur stroke-play championship at Royal Aberdeen Golf Club today
Hannah, pictued right by Cal Carson Golf Agency, in the third last group off the first tee, finished her round abut 6pm, just when a day of horrendous wind and rain was improving. She became the first player in the international field to match the testing women's par of 72 over the two days for the so-testing Balgownie links.
Coupled with her opening round of 79 – which had been six shots adrift of leader Lucie Andre from France - Hannah's seven-over-par tally of 151 saw her leapfrog over the longtime joint clubhouse leaders, Lucie Andre and Northern Ireland's Danielle McVeigh, two opposing Vagliano Trophy match players.
Danielle had a 79 for 154 and Andre matched that aggregate with an 81.
"I did get the best of the weather late in the round but before that it was horrendous wind and rain. I thought it was still a two-club wind in our faces over the inward nine," said Hannah, Wiltshire women's county champion who has been putting together a string of improving performances this season.
"No, I won't lose any sleep over leading a championship like this; That's what I play golf for. . I played well in the girls' home internationals (helping England win the title at Fairhaven) and was well up among the qualifiers for the match-play stages of the British girls' championship at West Lancs last week, so it's really just a continuation of that," she said.
He outward half was a mixed bag of birdies (fourth and fifth) and bogeys (second, third and eighth) before she "made" her round with three birdies in a row over a difficult stretch into the wind and rain.
She holed a 4ft putt for a 2 after a six-iron off the tee at the short 11th, had to go on her knees in a bunker at the 12th to cope with a bad lie, and played a magnificent recovery shot to 12ft from the stick – and downed the putt for a believe-it-or-not birdie/. Then she holed a 20ft birdie putt at the 13th.
Even a double bogey 6 at the 15th and another shot dropped at the 16th were not going to shake Hannah's confidence.
She parred the short 17th and then played a great five-iron third shot at the last, holing a 3ft putt for a birdie 3 to come home in 35 and surge clear of the field.
Andre and McVeigh had battled through atrocious conditions to share the lead until Miss Turland swept past late in the day.
The weather was even worse than it had been for Wednesday's first round. Tournament director Susan Simpson clocked the wind speed at gusts of 40mph, an increase of 10mph, And the new bad weather factor was rain – and lots of it, circling the Aberdeen area for hour after hour..
Nine Scots figured among the 44 qualifiers for Friday's final two rounds with two-round aggregages of 22-over-par 166 or better.
If the weather does not improve, those who missed the cut might count themselves the lucky ones!
Leading Scot in joint fourth place is international Laura Murray who almost qualifies for the "local " tag. She hails from Alford.
Laura shot a great 76 in the horrendous conditions for a tally of 155 – four shots behind shock leader Hannah – and then said she couldn't have done it without her caddie, her mum Mary.
"I'm not the excitable type but Balgownie is such a challenging course and the weather was so awful that you need somebody to keep your spirits up, keep encouraging you – and that's what Mum is so good at," said Laura who had her 21st birthday on August 8.
"We were lucky that the rain stopped and the wind dropped a bit for the last few holes but it was simply awful before that. At least on Wednesday it was just the wind. Today it was an even stronger wind with lots of rain thrown in.
"It's the kind of weather when golf is not much fun but just a hard slog. I got a couple of early birdies – at the sixth and seventh – and I knew they would come in handy when we turned into the wind.
"Sure enough I bogeyed the 13th , 14th and 15th but, all in all, I played really steadily."
Carly Booth from Comrie is sharing eighth place after a 76 for 158.
"I'm playing solid golf from tee to green but I just can't sink any putts. I don't like putting when the wind is as strong as it has been. I don't mind it in my face on the tee but I detest what the wind does to the ball on the greens." said Carly.
Tournament director Susan Simpson from Carnoustie admitted later that around 11am she did go out to the exposed 10th green to check the wind-and-ball situation.
"We had been getting reports from the course that balls were being moved by the wind on the greens. I went out and it was touch and go whether we suspended play but just when we were about to make a decision, the wind did drop a little bit and saved us a lot of bother."
Other Scots who made the cut were Louise Kenney (Pitreavie) 80 for 159, Pamela Pretswell (Bothwell Castle) 80 for 161, Kylie Walker (Buchanan Castle) 79 for 162, Jane Turner (Craigielaw) 77 for 162, defending champion Roseanne Niven (Crieff) 82 for 163, and, right on the limit mark, former Scottish title-holder Elaine Moffat (St Regulus) 86 for 166 and repeating Scottish Under-21 champion Kelsey MacDonald (Nairn Dunbar), 85 for 166.
Ann Ramsay (Kirriemuir) was agonisingly close – one shot too many with a 81 for 167. Scottish champion Megan Briggs (Kilmacolm) crashed out with a 91 for 169, one shot better than North of Scotland champion Katy McNicoll (Carnoustie), 89 for 170.
That it was a game of two halves for the second day in a row was underlined by the figures of France's Marion Ricordeau. She had the lowest outward half of the two days - three-under-par 33- but the No 2 in the European Golf Association's female rankings took 44 shots to come home for a 77.
Labels: Amateur Ladies