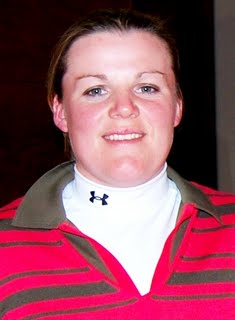 Cara Gruber lowers
Strathpeffer
Spa
course record to 65
Northern Counties team player Cara Gruber lowered the course record at Strathpeffer Spa Golf Club by one stroke this week. Playing in a club competition, she shot 65, three under par. The previous record of 66 was held by Jayne Barnetson for many years.
Her scorecard read:
OUT: 5 3 3 3 3 3 5 3 4 - 32
IN: 3 2 3 4 4 6 4 3 4 - 33
She had an eagle 2 at the 11th and birdies at the fourth, eighth, ninth ,12th and 17. She had bogeys at the fifrst, seventh, 14th and 15th.
Cara also holds the women's course records at Royal Dornoch - seven-under-par 69 - and Invergordon, four-under-par 67
Earlier this summer Miss Gruber, pictured above by Cal Carson Golf Agency at this year's Hacienda del Alamo Women's Winter Festival, who is also a Royal Dornoch Golf Club member, helped Northern Counties qualify for the Scottish women's county championship finals at Baberton from September 18 to 20.

Labels: Amateur Ladies