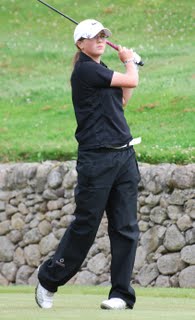 Hannah McCook takes Sammy Vass's place
in Northern Counties team for Baberton
Teenager Hannah McCook, who cut her handicap to three in winning the Northern Counties LGA fixture at Torvean today with a 75 (net 71) against a CSS of 73, will play for Counties in the forthcoming Scottish women's county finals at Baberton Golf Club, Edinburgh.
Hannah,
pictured right by Cal Carson Golf Agency,
the North of Scotland girls champion, takes the place of Tain's Sammy Vass who is now at the University of Central Florida at the start of a four-year golf scholarship.
Hannah was a reserve for the Northern Counties squad who won the Northern Division title at Royal Dornoch but she did make a debut appearance.
The full Northern Counties line-up for the four-cornered contest against the champions of the three other areas of Scotland - Renfrewshire, Midlothian and Galloway - is:
ALISON BARTLET (Royal Dornoch)
CARA GRUBER (Royal Dornoch)
HANNAH McCOOK (Abernethy).
KELSEY MacDONALD (Nairn Dunbar).
PAM MACKAY (Royal Dornoch)
JENNY MILNE (Elgin).
MARY SMITH (Tain).
JULIE VASS (Tain).
Programme at Baberton from September 18 to 20:
Friday - Northern Counties v Renfrewshire, Galloway v Midlothian.
Saturday - Northern Counties v Galloway, Renfrewshire v Midlothian.
Sunday - Northern Counties v Midlothian, Renfrewshire v Galloway.
Labels: County News