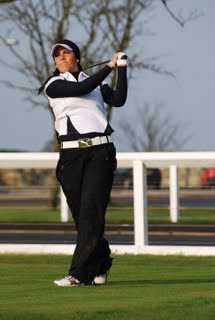 North Star Kelsey MacDonald is
tracking
Catriona
Matthew
...
and it's
so
far, so good!
FROM THE EDINBURGH EVENING NEWS WEBSITE
By Martin Dempster
Kelsey MacDonald, who is hoping to help Scotland win the Women's Home Internationals at Irvine this week, has followed Catriona Matthew's footsteps once already and desperately wants that trend to continue.
The 18-year-old from Nairn is – like Matthew when she was the same age – on a scholarship at Stirling University, combining her psychology studies with as much golf as she can fit in.With back-to-back wins in the Scottish Junior Ladies' Open Stroke Play Championship under her belt, MacDonald,
pictured above by Cal Carson Golf Agency
, is an exciting young talent and has her sights set on following Matthew, the Ricoh Women's British Open champion, all the way to the top of the ladder.
"Catriona is a great inspiration to every single female golfer in Scotland," she said. "I was among a group of players she gave a talk to at Craigielaw last year and it was fascinating to hear what she had to say
.
"What struck me, though, was that my achievements so far aren't too far away from what she had achieved around the same age and the fact she also went to Stirling University is making me all the more determined to keep following in her footsteps."
MacDonald, who lives across the road from the Nairn Dunbar course, is confident she made the right choice by staying in Scotland as opposed to following the likes of Mhairi McKay, who was at Stanford University in California at the same time as Tiger Woods, across the Atlantic.
She added: "I thought about going to the States and certainly got my eyes opened when I paid my first visit there as part of a Grampian Houston trip a few years back. However, the chance to go to Stirling University was too good to miss out on and, what's more, there's simply no better place to learn how to play lots of different golf shots than Scotland.
"Another factor in me staying here was that I still had the support of both the Scottish Institute of Sport and the Scottish Ladies Golfing Association at close hand – that wouldn't have been the case if I was over on the other side of the Atlantic.
"I've still got three more years on my scholarship and though plans can often change year by year, I aim to see that through before turning professional."
MacDonald, who made her full debut in last year's Women's Home Internationals, is hoping the Scots can come flying out of the blocks in their opening match against Ireland today as they bid to lift the Miller Trophy for the first time since 1991.
"We've grown as a team and matured as individuals over the past 12 months and we honestly believe that no-one can deny us this week," she said.
Labels: Amateur Ladies