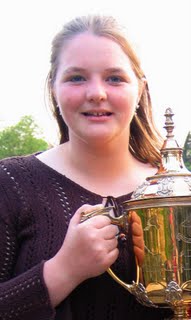 Carly (70), Kylie (72) carry on good work at La
Manga as LET Q School gets down to business
By COLIN FARQUHARSON
Comrie's Carly Booth (70) and Kylie Walker (Buchanan Castle) (72), both members of the 2010 Curtis Cup match short leet and both competing as amateurs, continued their good form in the Ladies European Tour Qualifying School process at La Manga, Spain today.
Having come through the harrowing Stage 1 eliminator with flying colours, the two Scots carried on the good work with sub-par rounds over the South Course (par 73) in the first of four rounds that make up the Stage 2 final qualifying competition.
To make the top 30 at the end of 72 holes is the target because that would guarantee full playing rights on next year's LET schedule.
Sweden's Pernilla Lindberg showed the low-scoring potential on a balmy-type Spanish winter's day with a seven-under-par round of 66. That was two shots better than South Africa's Tandi Cunningham, former Roehampton Gold Cup winner (pictured above) Claire Louise Aitken (Mid Kent Golf Club), the leading British player, and two Americans, Hannah Jun and Alison Walshe, although there are those of us who would contend that Alison, who played for the United States in the 2008 Curtis Cup match over the Old Course, St Andrews, is Irish. She was born in Galway but her parents emigrated to the Boston, Massachusetts area before she was 10 years old.
Carly Booth, only 17, which means she would have to get special dispensation from the LET chief executive to play on the LET before her 18th birthday next June - should she earn playing rights, is lying joint ninth. She birdied the first, long fourth, seventh and ninth in two-under-par 35 to the turn, having bogeyed the second and third
The Glenealmond, Perthshire schoolgirl then bogeyed the 10th but got back on track with a 2 at the short 13th and a 4 at the testing long 18th hole in halves of 35 for a 70.
Kylie is lying joint 26th with a 72 made up of birdies at the eighth, 10th and 15th but a disappointing finish with a bogey 4 at the short 17th and a 6 at the long 18th in halves of 36.
The two other Scots in the field of 84, Clare Queen (The Carrick on Loch Lomond) and Pamela Feggans from Patna, Ayrshire, also had a solid start, both matching the par of 73 to be joint 34th at the end of the first day.
FROM THE LADIES EUROPEAN TOUR WEBSITE
Sweden's Pernilla Lindberg fired a bogey-free seven under par 66 to take a two-stroke lead after the first round of Final Stage Qualifying School at La Manga Club in Murcia, south-east Spain today.
The 23-year-old from Bollnas led the field of 84 players targeting a place on the 2010 Ladies European Tour after carding seven birdies in mild conditions on the South Course.
Lindberg was one of a group of 48 players who graduated from the LET's Pre-Qualifying School, played over three rounds from Tuesday to Thursday.
The Oklahoma State University graduate, who still lives in the United States, birdied the sixth, eighth and ninth holes for an outward total of 34, before returning in 32 after birdies at holes 11, 13, 16 and 18.
"I am very pleased, especially because I came straight out of the pre-qualifier and I had a little bit of a rough day out there yesterday. I felt I lost my focus and had a rough round. It was nice to re-start everything today and start off this well," said Lindberg, who had already earned her full card for the 2010 season on the US-based LPGA Tour.
"It was nice because there was no wind so one less factor to count in. I think it was good conditions out there for scoring, for sure. There were just a few drops of rain out there at the end but nothing that really affected it."
Lindberg played in 10 events on the Duramed FUTURES Tour this year, where her best finish was a tie for second at the iMPACT Classic in Richmond, Va. Her best score was eight under par.
"I had some low scores this summer and I got comfortable shooting low scores and I think that was a big thing for me," she added. "The first time you start getting to five, six under, it's tough, but if you've been there before it's easier."
Lindberg finished the day two ahead of South African Tandi Cuningham, England's Claire Louise Aitken along with the United States pair Hannah Jun and Alison Walshe, all on five under 68.
Sharing sixth place on 69 were Sweden's Johanna Lundberg, Spain's Maria Hernandez Munoz and Colombian Maria Jose Uribe, who won the pre-qualifying tournament on Thursday.
This year's Final Qualifying School will be contested from Friday to Monday, over four rounds, with a cut to the leading 50 players and ties after three rounds.
The top 30 players will receive a full card for the 2010 season in category 8, while those in positions 31-50 may take category 10a, with some playing opportunities on the LET in 2010.
After one round, scores were generally low at La Manga Club, with the leading 30 players all under par.
S C O R E B O A R D
South Course (Par 73)
66
Pernilla Lindberg (Sweden).
68
Tandi Cunningham (South Africa), Claire Louise Aitken (Mid Kent GC), Hannah Jun (US), Alison Walshe (US/Ireland) (jt 2nd).
69
Maria Jose Uribe (Columbia), Johanna Lundberg (Sweden), Maria Hernandez (Spain).
70
Caroline Masson (Germany) (amateur), Hannah Ralph (England) (amateur), Camille Fallay (France), Jo Pritchard (Wales), Rhian Wyn Thomas (Wales) (amateur),
Carly Booth
(Comrie) (amateur) (jt 9th)
71
Kristie Smith (Australia), Dewi-Claire Schreefel (Netherlands), Jeehae Lee (South Korea), Amanda Moltke-Leth (Denmark), Corisande Lee (England) (amateur), Monia Bernardo (Portugal), Kyra Van Leeuwen (Netherlands), Elin Emanuelsson (Sweden), Emelie Lind (Sweden), Melodie Bourdy (France), Antonello Cvitan (Sweden) (jt 15th).
72
Eva Mjarvall (Sweden), Julie Maisongrosse (France) (amateur), Ana Larraneta (Spain
), Kylie
Walker
(Buchanan Castle) (amateur), Marieke Nivard (Netherlands) (amateur), Josein Leijon (Sweden), Miriam Nagl (Germany), Cassandra Kirkland (France) (jt 26th).
73
Diana D'Alessio (US), Mallory Blackwelder (US), Zuzana Masinova (Czech Republic), Kirsty S Taylor (Weybrook Park GC), Christine Hallstrom (Sweden),
Clare Queen
(The Carrick on Loch Lomond), Kim Welch (US), Stephanie Na (Australia), Holly Aitchison (Bedfordshire GC), Danielle Masters (England), Tara Ireland (Team Ireland), Lena Tornevall (Sweden), Kate Combes (Australia),
Pamela Feggans
(Scotland), Kym Larratt (England) (amateur) (jt 34th).
74 Rachel Bell (England), Stacey Keating (Australia) (amateur), Lucie Andre (France) (amateur) (jt 49th).
75 Line Hansen (Denmark (amateur), Henrietta Zuel (England), Anna Rossi (Itaqly), Monica Christiansen (Denmark), Elena Giraud (France), Vickly Thomas (Australia), Celine Herbin (France), Barbara Genuini (France) (jt 52nd).
76 Julie Tvede (Denmark), Laure Sibille (France) Mollie Fankhauser (US), Tonya Choate (US), Rachel Drummond (England) (amateur), Frederique Seeholzer (Switzerland), Ana B Sanchez (Spain) (jt 60th).
77 Therese Nilsson (Sweden), Anna Knutssson (Sweden), Sahra Hassan (Wales), Sara Beautell (Spain), Mianne Bagger (Denmark), Mariana Macias (Spain), Rebecca Flood (Australia) (jt 67th).
78 Nathatlie David-Mila (France), Cecilie (Lundgreen (Norway) (jt 74th).
79 Viva Schlasberg (Sweden), Denise-Charlotte Becker (Germany), Franziska Blum (Germany) (amateur), Sarah Abercromby (Denmark (jt 76th).
80 G Young Park (South Korea), Sanna Johansson (Sweden) (jt 80th).
82 Kiran Matharu (England), Emma Lyons (England) (jt 82nd).
83 Eva Steinberger (Austria) (84th).
Labels: LADIES EUROPEAN TOUR