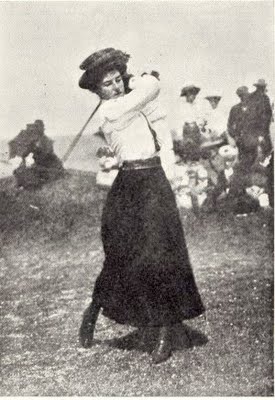 Dorothy Campbell, North
golfing daughter
By COLIN FARQUHARSON
Until Catriona (Lambert) Matthew came along in the last two decades, there was no doubt that North Berwick's most famous golfing daughter was Dorothy Campbell (1883-1945), winner of 11 major amateur championships in her lifetime, 10 of them between 1905 and 1912 and six of them in the United States and Canada.
She was the first British-born player to win the United States women's amateur championship and also the first to achieve the coveted double of the British and American titles in the same year, 1909, when the venues were Royal Birkdale and Merion. In all she won the American title three times, her third triumph coming in 1924, 14 years after the second, and the British women's title twice, in a three-year span.
A short but very straight hitter with an unorthodox hooker's grip, she had a short-game that was out of this world.
Dorothy was the first truly international women's golf star. She achieved more in her amateur career than did Catriona Matthew – which takes some doing – but, of course, Dorothy played all her golf as an amateur.


Had there been a Ladies European Tour or LPGA Tour in the States in the first half of the 20th Century, I like to think that a player of Dorothy Campbell's golfing talent and competitive nature, would also have made a successful transfer to the professional ranks. Who knows what she would have achieved in those circumstances.


One of the minor problems researching Dorothy Campbell's life is that she was married twice and divorced twice so from Miss Campbell she became Mrs J V Hurd, then later Mrs Edward Howe.
Dorothy Iona Campbell was born at 1 Carlton Terrace, Edinburgh on March 24, 1883. Her parents were William Campbell, a metal merchant, and Emily Mary Campbell. Dorothy had six sisters and two brothers – all of whom played golf at a time when the game was not as popular as it is now.
By all accounts, Dorothy swung her first toy club when she was just 18 months, shades of Tiger Woods.
Her father died in 1899 when she was 16 and by 1904, Dorothy was living with her mother at Inchgarry House, Links Road, North Berwick where the Campbell family had enjoyed a number of summer holidays.
In 1896, Dorothy, age 13, joined North Berwick Ladies Golf Club and soon reduced her handicap of nine. She had no problem holding her own against the adult members. She was a pupil of famed golf professional Ben Sayers and learned to play the game over the North Berwick West Links.


Miss Campbell became the outstanding woman player in Scotland, reaching five Scottish Ladies' (Close) Championship finals in a row from 1905 to 1909 inclusive, winning three of them in 1905-06-08.


The Scottish championship had only been instituted in 1903 (Alexa Glover beat Dorothy Campbell 3 and 2 in the semi-finals over the Old Course, St Andrews on her way to becoming the first title-holder) and the Scottish Ladies Golfing Association, founded in 1904, organised the national tournament for the first time in 1905 when North Berwick was the venue.
It was too good an opportunity for Dorothy Campbell to miss and she won the title over her home links, beating Molly Graham at the 19th in the final.
Dorothy, it should be said, was no stranger to the big occasion. Two weeks before the "Scottish" at North Berwick, she had made her debut in the British women's open amateur championship at Royal Cromer and reached the last four and at the same venue, either immediately before or after the "British," she appeared for a winning team playing under the England banner against the United States in a forerunner of the Curtis Cup match.

In the 1906 Scottish championship at Cruden Bay, Miss Campbell defended her title successfully, avenging that 1903 semi-finals defeat by Alexa Glover whom she beat by 3 and 1 in the final.
In 1907 Dorothy was pipped in her bid to complete a hat-trick of Scottish title wins. The final at Royal Troon went to the 21st hole before Miss F C Teacher took Miss Campbell's measure on the day.
Dorothy bounced back to win her third and last Scottish title in 1908 at Gullane, where she beat Miss M Cairns 7 and 6 and she disappeared off the championship's roll of honour after losing by 3 and 1 to Miss E Kyle in the 1909 final at Machrihanish.
In the British championship at Birkdale in 1909, Miss Campbell forgot to report the result of her third-round match (she had won on the 11th green) to the LGU officials who met to discuss whether this rendered her subject to disqualification.
Dorothy was allowed to continue in the championship which she won, beating Ireland's Miss Florence Hezlet 4 and 3. That victory earned her an invitation to play in America and changed the course of her life. Subsequently, she returned to Britain only as a visitor.


By 1910 Dorothy Campbell was living in Canada and that year she pulled off a remarkable North American double, winning both the United States and Canadian women's open championships.


She moved to the United States in 1913 when she married Jack V Hurd, a steel magnate, living in Pittsburg and a member of Oakmont Country Club.
The following year she re-crossed the Atlantic to win the British title for a second time, beating in the final at Royal Portrush Violet Hezlet whose sister Florence, Dorothy had beaten in the 1909 final of the tournament.
After giving birth to a son, Sigourney, Dorothy, by now an American citizen, went into semi-retirement from golf. But she made a comeback in a major championship, the 1920 United States women's championship – and did astonishingly well. She reached the final before going down to Alexa Stirling.
Dorothy had won all her previous titles with a sweeping swing .."square to square with a shut clubface" … in which she held the club two-handed in the palms of her hands, the wrists stiff and a hooker's right thumb which was almost under the club. A classic example of "It's not how, it's how many!"
Mabel Stringer wrote of her short-game prowess: "Dorothy's best stroke was a run-up shot that she used from distances of up to 50 feet. She used her goose-neck mashie, closing the small clubface and hitting the ball on the downswing. At Augusta Country Club in 1926, she holed two chip shots and ended up having a record low of 19 putts for 18 holes, lowering Walter Travis's record by two strokes for putts in one round. In the final of the (US) North and South championship, she beat her opponent by twice holing out from 40 yards."
At the height of her fame, one Mabel S Hoskins, writing in "Golf for Women," said:
"Had Mrs Hurd (Dorothy Campbell) lengthened her swing, there is the bare possibility that she could have added distance but, with that short backwing and not exaggerated follow through, she kept the ball near to the middle of the course, far from trouble."


But Dorothy realised in her 30s, that as she and her muscles aged, she had to adopt a more orthodox technique. George Sayers, son of her original swing coach, Ben, was by now professional at Merion Golf Club, Philadelphia and it was he who gave Dorothy the conventional Harry Vardon overlapping grip and changed her swing.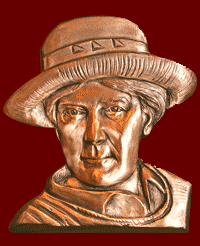 She sacrificed one whole golf season to work on her new grip and swing until it became second nature to her. It was to pay a last major dividend.
As her marriage to Jack Hurd came to an end – they were divorced in 1921, Dorothy began to compete once more and with considerable success.
Dorothy once calculated that she had won between 700 and 800 prizes in her golfing career, and we are not talking about monthly medals.
By now 41, Dorothy made her last championship appearance anywhere in 1924. It was in the US women's amateur championship and she entered from Merion Cricket Club. Dorothy beat Mary K Browne, a former American singles tennis champion, in the final. Browne, in the semi-finals, had upset the hot title favourite, Glenna Collett, the 1922 champion and now playing over her home course, at Rhode Island Country Club.


As Rhonda Glenn summed up the final … "while Browne was a long hitter, she couldn't upset the veteran with the hot putter."


Dorothy virtually retired from competitive golf after that but she had such a good eye for the game and she never seemed to lose her rhythm and timing. She was persuaded to "come home" and play for Scotland in the women's home internationals of 1928 – 17 years after her last appearance.
In story-book style, Dorothy won all three of her singles ties, including a memorable win over England's Cecil Leitch at the 20th (it would have been a halved match nowadays). Cecil, in her vintage years, won the British title four times and lost twice in the final. Cecil also won the English closed title twice and lost in the final once.
By then aged 47, Dorothy came back again to play for Scotland in the 1930 home internationals. Dorothy's new swing enabled her to continue playing competitively through the 1930s – and she won the United States seniors women's title at the age of 54-55 in 1938
In 1936, Dorothy married Edward L Howes, chairman of the Princeton, New Jersey Bank and Trust Company. She was to divorce her second husband in 1943.
Apart from being a very accomplished golfer, Dorothy Campbell could have made a living as a professional writer. Ghost writing was not for her. She penned highly readable golf columns for such publications as The Golfer, and others for national circulation. She was one talented lady.
As Liz Pook writes: "In her twilight golfing years, she was a frequent visitor to many a tournament and a guest of the famous. Indeed she is mentioned with the greatest respect and admiration no fewer than 15 times within Glenna Collett's "Ladies in the Rough."
All good things come to an end and for Dorothy Campbell the end came in tragic circumstances when she was only 61.
On March 20, 1945 – four days before her 62nd birthday - she was visiting friends at Beaufort, South Carolina when she fell from the railway station platform in front of a train at the very small town of Yemassee (population in 2000 was only 807).
The mystery is why Dorothy fell from the platform. It is hardly likely it was as busy as a London Tube station and she had got too close to the front of the throng. There was no indication in the newspapers of the day that Dorothy had been taken ill and fainted on to the track. We shall never know now.

She had just bought a ticket for the New York-bound train that would take her to the home of her daughter-in-law, Mrs Sigourney V Hurd of Plainsville, New York. Sigourney, her only child, was away serving his country in the Philippines in World War II.
Dorothy's name was inducted into the World Golf Hall of Fame in 1978.
Liz Pook sums up Dorothy's career thus:
"There is no disputing the fact that Dorothy Campbell remains one of the finest lady golf champions of all time and certainly in contention as the best chip-and-run player that the British Isles has ever produced. And to think that her long and fascinating journey began with a little sixpenny club purchased in a toy shop in the High Street in North Berwick."

Acknowledgements: Douglas Seaton (North Berwick Hall of Fame researcher & author), Liz Pook, Women Golfers' Museum.



DOROTHY CAMPBELL ROLL OF HONOUR




British ladies amateur champion:

1909 & 1911. Beaten finalist: 1908. Semi-finalist: 1904, 1905, 1906


United States ladies amateur champion

: 1909, 1910, 1924. Beaten finalist: 1920. Semi-finalist: 1911.
United States senior ladies amateur champion

: 1938.


Scottish ladies amateur champion:

1905, 1906, 1908. Beaten finalist: 1907, 1909.


Canadian ladies amateur champion

: 1910, 1911, 1912.


Western Pennsylvania ladies amateur champion

: 1914, 1915, 1916.


US North & South ladies amateur champion:

1918, 1920, 1921.


Boston District ladies champion

: 1922.


Florida West Coast champion

: 1923 & 1925.


Philadelphia ladies amateur champion:

1925, 1926, 1927, 1929 1931, 1934.


Bermuda ladies amateur champion

: 1931 & 19034.


Pennsylvania State ladies champion

: 1934.


Women's Home Internationals

: Scotland – up to 1909, and again in 1911, 1928 & 1930.


Representative matches:

England/Great Britain v United States: 1905 & 1909.
Labels: THE WAY WE WERE