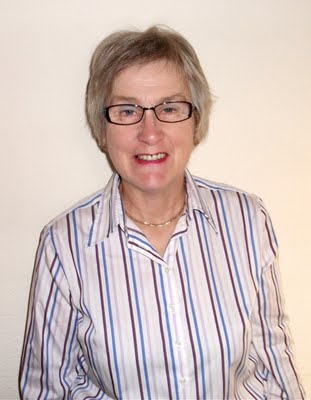 Emma Wilson: "Wonderful to be given the opportunity to promote women's golf, and especially girls' golf."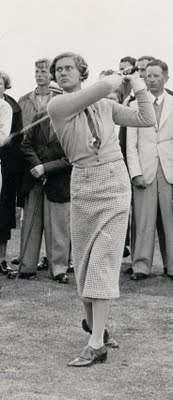 NEW SLGA PRESIDENT EMMA WILSON

REMEMBERS GOLDEN GREATS HELEN

-

HOLM AND JEAN McCULLOCH
By COLIN FARQUHARSON
Emma Wilson, the new Scottish Ladies Golfing Association president, is a direct link with some of the country's great women golfers of the 1930s and 1940s/
"I come originally from Lanark and came up through the West of Scotland Girls' Golf Association, encouraged by names such as Helen Holm, Jean McCulloch, May Menzies and Irma Douglas," says Emma who would reach county team standard as a player.
"I remember Helen Holm,
pictured right
, as a tall ,striking figure who came up and spoke quietly to you, inquiring how you had played and just generally very supportive of West girls.
"Also Jean McCulloch (another past Scottish champion) came to give us vocal support: 'Girlies, come along now! We, of course, had little or no idea who these old dears were!
"It is only in later life that you realise the great love of golf they had and their pedigree. I exchanged a Christmas card with Miss McCulloch for a good number of years."
Emma Wilson lives in Kirkcaldy now. She worked for Ladybird in Slough, then moved to Kirkcaldy in 1973.
"I was chief designer for Babygro Ltd for nine years. I missed my golf as it was so expensive down south."
She has been strongly associated with Fife women's golf at club and county level for the best part of 40 years. Of her appointment to be Ethel Jack's successor as SLGA President, Emma says:
"It is a great honour to be following such illustrious Presidents of the SLGA and wonderful to be given the opportunity to promote women's and especially girls' golf by emphasising the many life-long friendships made and the camaraderie enjoyed among golfersm, both competitively and socially.

"I'm looking forward to supporting our Scotland teams – girls, women's and seniors."
She is a member of Elie & Earlsferry Ladies Golf Club and Leven Golfing Society and was captain of Kirkcaldy Golf Club in 1983. After being a Fife county team player, she became Fife county captain in 1983-84, county president in 2000 and an honorary member in 2006.
Emma was chairman of the SLGA in 2004-2005 and chairman of the selectors.
She played for the Midland Vets team and has taken over as captain of the Midland Vets for 2010.
EDITOR'S FOOTNOTES:
Younger readers might not be aware of the outstanding playing records of Helen Holm and Jean McCulloch. Here are the highlights of their careers:
HELEN HOLM (Troon Ladies)
Born: Helen Gray, Glasgow, March 14, 1907. Died: December 14, 1971.
British women's open amateur championship: Won title in 1934 and 1938.
Scottish women's (closed) amateur championship: Won title in 1930, 1932, 1937, 1948 & 1950. Beaten finalist: 1933, 1938, 1949, 1956 & 1957.
Curtis Cup appearances: 1936-1938-1948. Mrs Holm declined selection for the 1950 match in the United States because she considered her son was too young to be left at home.
JEAN McCULLOCH (West Kilbride)
Scottish women's (closed) amateur championship: Won title in 1913, 1928 and 1931.
The first Curtis Cup match was not played until 1932.
*From the West Kilbride Golf Club website: Jean McCulloch won the Scottish Ladies' championship while still in her teens. It was the start of an astonishing career which would see her national champion twice more, a career in which she would win the West of Scotland Championship 40 years after her first national success and live to attend the 75th anniversary dinner in 1988 of that win at Machrihanish in 1913. In addition her encouragement to ladies' golf, in particular girls' golf was to be a life-long commitment.
Labels: Amateur Ladies, Girls