WOMEN'S DIXIE AMATEUR CHAMPIONSHIP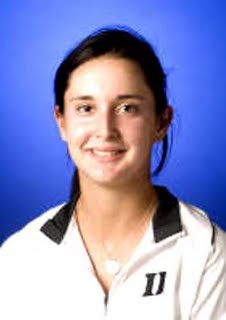 Holly Clyburn lying third with one
round
to go in Florida
NEWS RELEASE ISSUED BY JEFF HUNT
The brutal cold winds that swept over Heron Bay Golf Club, Coral Springs, Florida during Saturday's third round of the Women's Dixie Amateur championship made moving day a truly memorable experience for the best women's amateurs in the world. Sunday's final round will feature a final pairing of three players that will surely all make their marks on the world's professional tours in the very near future. Lindy Duncan (
pictured right)
of Davie, Florida and Duke University fired the round of the day with a two-under par 70 to tie with Alexis Thompson of Coral Springs, Florida in the lead at five-under-par 211.
England's Holly Clyburn shot a 75 to put her three strokes off the lead.
Sandra Changkija of Orlando, Florida is four strokes back after complimenting her 72 and 70 with a 73 on Saturday.
The Inaugural Senior Dixie Amateur's final round ended as many expected it would. Three time US Senior amateur champion Diane Lang fired an impressive 73 to hold onto her five-shot lead that she took into the final round.
Making the strongest move of the day was Lisa Schlesinger of Laytonsville, Maryland whose field-leading 70 in the final round gave her a second-place finish, one stroke ahead of Brenda Pictor of Marrietta, Georgia who finished who finished with a total of 224.
Labels: Amateur Ladies, Girls, Senior ladies