LPGA Tour tees off in Thailand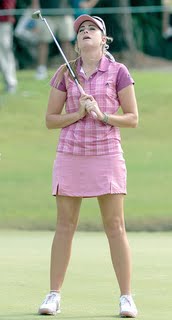 Paula Creamer has a 69, but is flying home
for treatment to hand injury
FROM GOLFWEEK.COM WEBSITE
By BETH ANN BALDRY
CHONBURI, Thailand Ė Paula Creamer has withdrawn from the Honda PTT LPGA Thailand with a nagging left hand injury. Creamer is heading back to the U.S. to seek further medical attention, according to her management company. She also was scheduled to play next week in the HSBC Womenís Champions in Singapore.
Creamer,
pictured,
ended her first round of the season with a creditable score of 69 - but in tears - yesterday. One canít help but wonder if those tears were as much about fear as they were about pain. At 23 years old, Creamer is awfully young to be dealing with so many health problems.
Last year at this time she battled a mysterious stomach illness that doctors said could take up to two years to fully recover from.
Then last June she injured her left thumb hitting out of the rough. She changed her swing in the off-season, hoping to alleviate the pain. Now itís back to the drawing board.
Suzann Pettersen of Norway and M J Hur of South Korea each shot a six-under 66 to share the lead after the first round in Thailand as the LPGA Tour kicked off its 210 campaign.
Pettersen had a four-birdie, bogey-free round capped with an eagle on the last hole. Hur had seven birdies and a bogey on the Old Course at Siam Country Club.
Ai Miyazato, Kim Song-hee and Park Hee Young are one stroke back at 67.
Defending champion and world No. 1 Lorena Ochoa put together a blemish-free round of 69 that yielded three birdies
.
Michelle Wie shot par 72. She had a double bogey on the 10th followed by a bogey on the 11th, but finished with three birdies in the last four holes.
==============================================
FIRST ROUND SCORES
Par 72
66
M J Hur (Kor), Suzann Pettersen (Nor)
67
Ai Miyazato (Jpn), Song-Hee Kim (Kor), Hee Young Park (Kor)
68
Yani Tseng (Tai), Cristie Kerr, Angela Stanford, Brittany Lincicome, Stacy Lewis
69
Paula Creamer, Nontaya Srisawang (Tha), Karrie Webb (Aus), Lorena Ochoa (Mex), Maria Hjorth (Swe), Kyeong Bae (Kor)
70
Sun Young Yoo (Kor), In Kyung Kim (Kor),
Catriona Matthew
(Sco), Amy Yang, Pat Hurst, Momoko Ueda (Jpn), Se Ri Pak (Kor), Hwa seon Lee (Kor), Laura Davies (Eng), Katherine Hull (Aus)
71
Anna Nordqvist (Swe), Jiyai Shin (Kor), Na Yeon Choi (Kor), Meena Lee (Kor), Inbee Park (Kor), Amanda Blumenherst
72
Lindsey Wright (Aus), Stacy Prammanasudh, Aryia Jutanugarn (Tha), Juli Inkster, Hee-Won Han (Kor), Candie Kung (Tai), Shinobu Moromizato (Jpn), Michelle Wie
73
Maria Verchenova (Rus), Morgan Pressel, Eun Hee Ji (Kor), Brittany Lang
74
Mika Miyazato (Jpn), Natalie Gulbis, Eunjung Yi (Kor), Meaghan Francella, Russamee Gulyanamitta (Tha), Sophie Gustafson (Swe), Helen Alfredsson (Swe), Sandra Gal (Ger)
75
Virada Nirapathpongporn (Tha), Ji-Young Oh (Kor), Kristy McPherson
76
Wendy Ward, Christina Kim
77
Thipada Suwannapura (Tha)
78
Vicky Hurst, Jee Young Lee (Kor)
===============================================
Pettersen won the event in 2007 when she eagled the 18th to beat Laura Davies after blowing a seven-stroke lead.
"Gave myself a lot of chances. Made some and tried to stay patient," she said. "When it finally turns around, you're able to make some moves."
Hur was pleased with her round.
"I played really solid. Everything was perfect," said Hur, who won her first title at the Safeway Classic last year.
Labels: LPGA TOUR