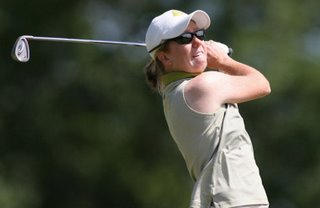 HIGH: RUNNER-UP AT HIGHLANDS RANCH
Hannah Burke, 19-year-old from Hertfordshire, achieved her highest finish on the American women's college circuit when she came second in the Ron Moore Intercollegiate at Highlands Ranch Golf Club, Colorado earlier today (local time).
Hannah, now in her second year at Baylor University, Texas, highlighted her freshman year with a seventh place in the Ptarmigan/Ram Classic. That was her best until she strung together three very good rounds of 72, 71 and 72 for a one-under-par total of 215 at Highlands Ranch.
Miss Burke finished two shots behind the all-the-way winner Stephanie Sherlock (Denver) who scored 69, 72 and 72 for 213.
Hannah might well have been the winner but for an error-strewn outward half of three-over 39 in her final round over the longish course (6,518yd). She bogeyed the second and fourth and birdied the sixth before running up a costly double-bogey 6 at the eighth.
Against that, she had an excellent second nine of three-under-par 33 with a birdie 4 at the long 11th before an eagle at the 391yd par-4 14th hole where she holed her second shot.

Over the three rounds, Hannah had two eagles and eight birdies on the credit side and two double-bogeys and seven bogeys in the debit column.
She finished four shots ahead of two players who shared third place on 219.
Baylor team-mate Sian Reddick from Folkestone, the 2004 English women's amateur stroke-play champion, finished joint 14th on 223 with scores of 72, 78 and 73. The second round, in which she had an inward half of 41, including a double bogey 6 at the 16th, dragged her out of a top-10 finish.
English Under-18 girls champion Ellie Givens, making her debut for Denver University, finished a creditable 30th in conditions which were totally foreign to her with scores of 77, 77 and 74 for 228. Ellie had five double bogeys over the first two rounds. She finished with a bogey 5 when a par would have given her a joint 26th finish.
Ellie's scores did not count for Denver, the host university, who won the team event with a total of 886 - nine shots ahead of Baylor.
LEADING FINAL TOTALS
Individual

Par 216 (3 x 72). 6,518yd.
213 Stephanie Sherlock (Denver) 69 72 72.
215 Hannah Burke (Baylor) 72 71 72.
219 Erica Moston (St Jose State) 73 70 76, Carmen Perez-Narbon (N.Carolina-Wilmington) 74 73 72.
Other totals:
223 Sian Reddick (Baylor) 72 78 73 (jt 14th).
228 Ellie Givens (Denver) 77 77 74 (30th).

Teams
886 Denver.
895 Baylor
897 Iowa State
Labels: Student golf