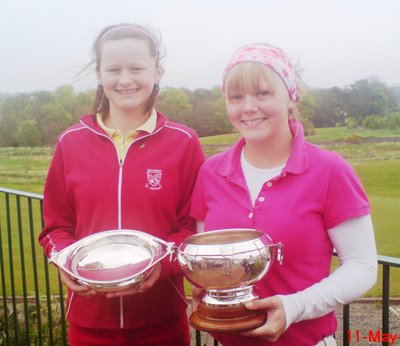 Gail (13) and Rebecca (17) Wilson, a pair of champions in the mist at Ballumbie Castle GC today.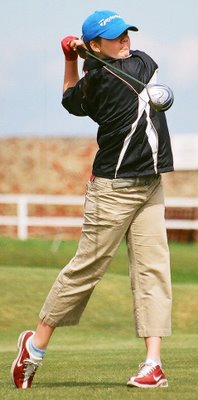 WILSON SISTERS PULL OFF
AT BALLUMBIE CASTLE
Sisters Rebecca and Gail Wilson from Monifieth pulled off a family double in the Angus women's county golf championship at Ballumbie Castle Golf Club, Dundee today.
Rebecca, 17,
pictured left by Cal Carson Golf Agency (all rights
reserved),
won the scratch championship for the first time, beating the No 2 seed and clubmate Jackie Brown by 5 and 4 in the final after knocking out the leading qualifier, Fiona Gilbert (Carnoustie) in the morning semi-finals.
Gail Wilson, 13, was taken to the 19th hole in her first two ties before recording a 6 and 5 win in the final against Joan Cowley (Scotscraig).
Weekend results:
First round
- Fiona Gilbert (Carnoustie Ladies) beat Angela Campbell 3&2, Aileen Hunter (Monifieth) bt Heather Anderson (Downfield) 4 & 3, Rebecca Wilson (Monifieth) beat Sue McGregor (Edzell) 2&1, Louise Graham (Carnoustie) bt Dawn Dewar (Monifieth) 5&3, Shonagh Raitt (Forfar) bt Agnes Freeman (Panmure Barry) 4&3, Mary Summers (Panmure Barry) beat Susan Arbuckle 5&4, Fran Millar (Carnoustie Ladies) beat Julie Ganson (Arbroath) at the 19th, Jackie Brown (Monifieth) bt Chris Healey (Carnoustie) 3&2
Quarter-finals
– Fiona Gilbert bt Aileen Hunter 3&2, Rebecca Wilson beat Louise Graham 4&3, Mary Summers bt Shonagh Raitt 6&5, Jackie Brown bt Fran Millar at 21st.
Semi-finals
– R Wilson bt Gilbert 3 and 2, Brown bt M Summers 1 hole.
Final
– R Wilson bt Brown 5 and 4.
HANDICAP

Quarter-finals
– J Cowley (Scotscraig) bt H Munro (Monifieth) 1 hole, S Sneddon (Carnoustie) w.o. M Brown (Carnoustie) scr; G Wilson (Monifieth bt J Chalmers (Monifieth) at 19th, A Summers (Panmure Barry) bt A Rennie (Monifieth) 2 and 1.
Semi-finals
– Cowley bt Sneddon 3 and 2, G Wilson bt A Summers at 19th.
Final
– G Wilson bt Cowley 6 and 5.
Labels: Amateur Ladies